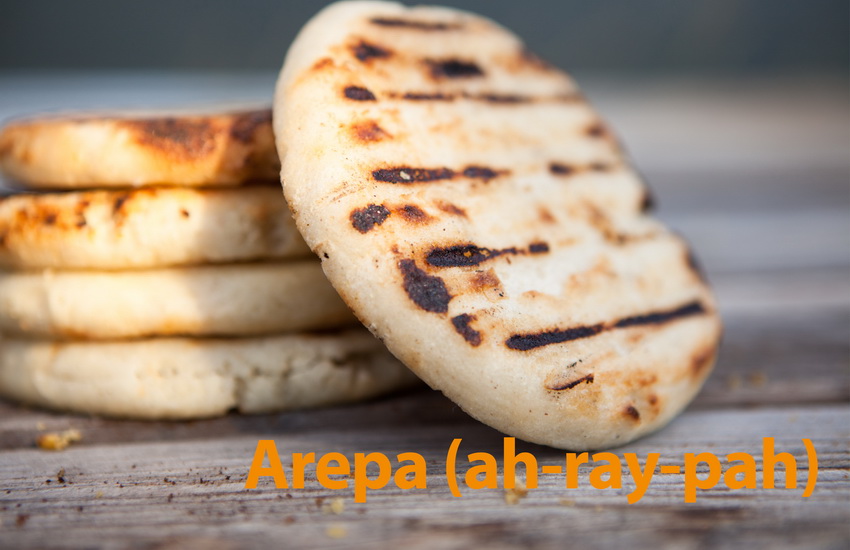 AREPAS are corn pockets stuffed with savory fillings. The Venezuelan AREPA has its origins hundreds of years ago, cooked by the various indigenous tribes across the country (Arawak, Caribe, Timoto-Cuica, Cumanagoto, Kariña, among others). The AREPA has its name from the word EREPA, the indigenous word for this corn bread. What was initially made with fresh corn is today usually made using pre-cooked white corn flour. Whether made with fresh corn or packaged corn flour, the AREPA represents Venezuelans' daily bread. It is eaten across the country, across all socio-economic groups, at all times of day.


Today, the plain AREPA, a round, thick pocket, is commonly referred to as the VIUDA (widow) when not stuffed. Up until the 1950′s, when AREPERAS (joints or restaurants serving AREPAS to the public) were few and far between, AREPAS were eaten primarily at home, accompanying served food or filled simply, with just cheese or canned deviled ham. Stuffed AREPAS rose in popularity with the spread of AREPERAS and the rising availability of pre-cooked corn flour.  They used to be called tostadas, but nowadays they are simply referred to as stuffed AREPAS ("arepas rellenas"). The stuffed AREPA is eaten filled with savory fillings, some considered authentic (shredded beef, black beans, white cheese, chicken salad with avocado) to more creative options like Caprese salad, chorizo or grilled tofu, among many others.

The AREPAS come in various sizes, from bite size to meal size and anything in between. Some people make them thick and remove the moist dough inside before stuffing; some are thin and crunchy. They can be grilled, fried or cooked in an oven or using the traditional anafre over coals. AREPAS can be eaten at any time of the day, from breakfast to dinner, as a snack or as a dessert (arepitas dulces), sweet arepas made with sugar cane (papelón) and anise seeds. There is no right way of making the perfect AREPA. The cook should choose how to make this simple, yet delicious corn pocket. The AREPA should be considered a gluten free pocket used a vessel to deliver a good stuffing!

Ingredients
1 Lb. of Harina P.A.N (pre-cooked corn flour, other brands like Maseca or Masarepa can be used too)
1 Tablespoon of salt
2 Tablespoons of vegetable shortening
4 cups of warm water (warm from the tap about 135°F)



Procedure
In a large bowl, mix by hand by combining water, salt and shortening together first, then slowly adding the flour, mixing quickly to avoid lumps.  Alternatively, in an electric mixer, combine all ingredients and mix on medium/low for 2 minutes until shortening is completely combined and the mixture is homogeneous.
Keep dough covered with a moist towel and let dough rest for 10 minutes.
Once rested, portion dough into a 6 oz. ball and flatten it as if making a burger patty or hockey puck. The AREPA needs to be thick enough that it can be sliced and stuffed like a pocket. An approximate size is about ½" thick and 4½ " in diameter. The edges of the AREPA need to be sloped down instead of flat, straight edges.
Set all AREPA on a sheet tray.
To cook, first seal the AREPA on a flat griddle that has been previously oiled for 2 minutes on each side.
To finish, place the AREPA on the hot grill for 5-8 minutes on each side. Alternatively, it can be cooked in the oven at 350°F for 10-15 minutes. The AREPA is ready when it sounds hollow if tapped in the middle. It needs to be crunchy on the outside.
Using a small, serrated knife, slice through the middle halfway, making sure that the bottom part is not sliced open (fillings will fall out otherwise).
Stuff generously with your favorite filling and serve immediately!