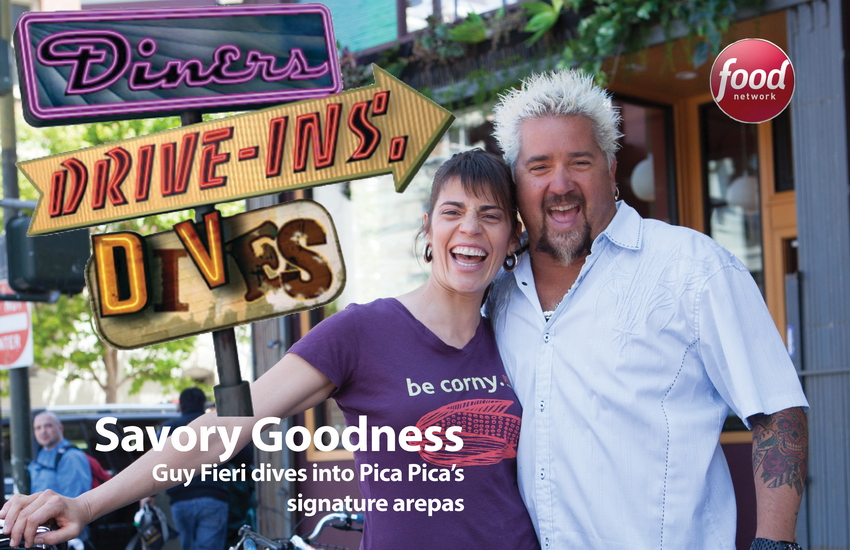 I am still riding high from filming with Guy Fieri for Diners, Drive-ins and Dives. The whole shoot, three days, felt like a time warp. Shutting down the restaurant, preparing to film the process of making our food, cooking with Guy — and after all that, opening Pica Pica for the evening dinner rush.
To cook our signature arepas for someone not greatly familiar with the food, and have that person totally get what we are all about, is hugely gratifying and forever imprinted in my heart. The shoot was awesome and so much FUN. Seriously. It was intense and focused, but Guy and I hit it off right away and had a great time with each recipe we made.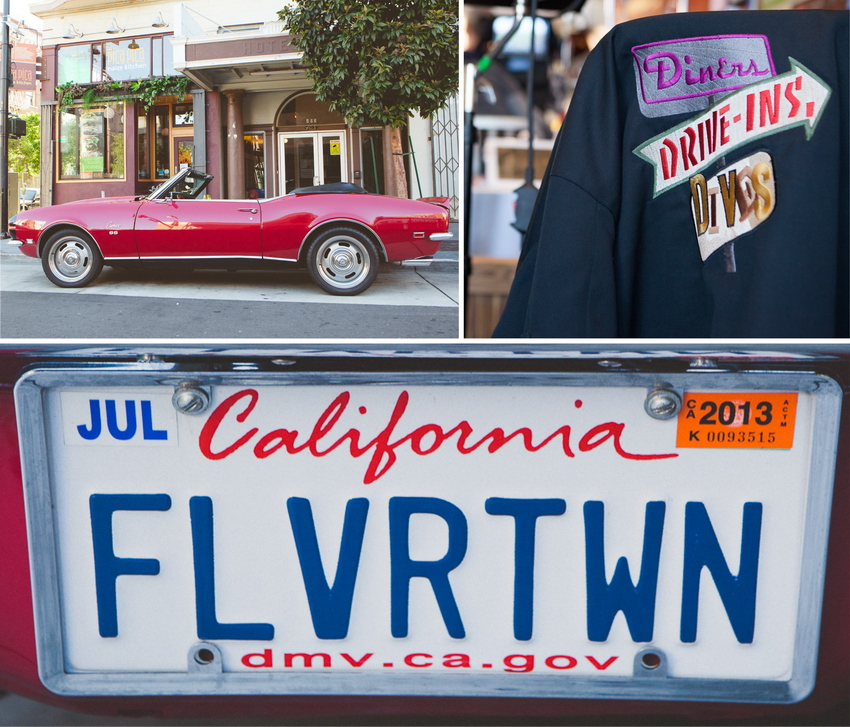 Replaying the 3 hours we spent filming together, I realize that Guy likes to get to know his guest. In between spoonful's of food and jokes he asked me a series of pointed questions: Where did I go to school? How did I end up in the U.S.? How did the restaurant get started? How many kids do I have? What are their names and ages? Where is my husband from? Does he like my food? Is he fat? Where are the recipes from? What are the secret touches of the Lopez family? What is Venezuelan and what is Pica Pica?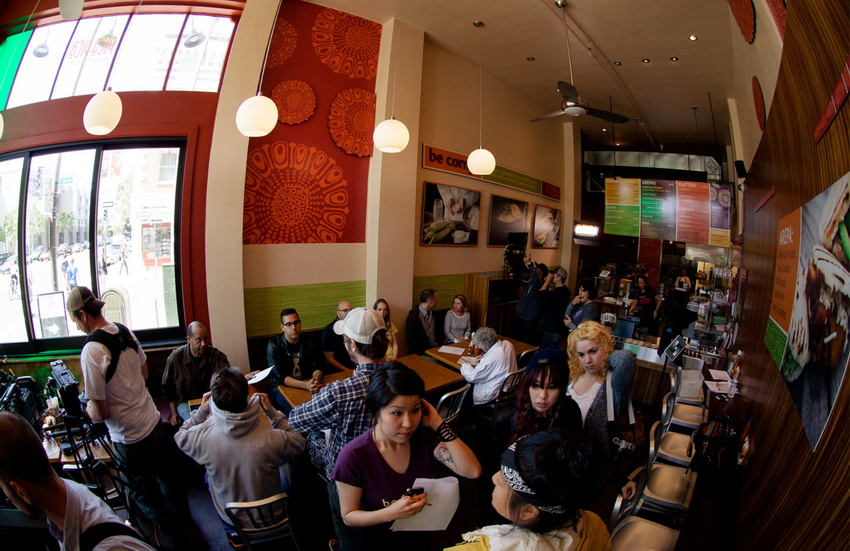 I walked away feeling that he got a sense of the inspiration behind Pica Pica. And I know he was listening because his commentary on the food was right on. Really, I didn't probe him. His comments on how the Arepa Pabellon has the amazing layers of texture and flavors, the love behind the recipes, the time invested in making each item, comes through. It is the passion we feel for our heritage. He got it and I was floored. My heart was filled with pride for Pica Pica, the owners and founders, but mostly for the team that makes this happen day in and day out.

We made Arepa Pabellon, Empanadas de Queso y Carne with Guasacaca and Cachapa Vegetariana on the show. I am really glad we choose to make the vegetarian cachapa. Guy's sister Morgan was a vegetarian and it seemed like vegetarian dishes hold a special place in his heart. This one captured him. The many textures, corn kernels, morena sauce, sweet plantains, avocado and the marinated tofu — It's awesome and I'm proud to be able to give people good food without compromise.

In the last five and a half years of serving arepas, I've had the pleasure of hearing first hand our customer's response to it. That "wow" moment when they say, "this is the most delicious thing I have ever tasted." It triggers a connection to home cooking, wholesomeness and a flavor that satisfies. So for me, although not everyone can relate to the heritage of the ingredients, they can enjoy its uniqueness and deliciousness.

What is so incredible about that "first bite" of an arepa was also reflected in Guy's response to it. When he tried the Arepa Pabellon, he was in awe. Once again, we were able to "wow" someone, and on the Food Network no less!


I would love to keep this high I am feeling now. It would be great to meet Guy again and film another segment with him. I am proud of the show, but I'm also nervous. What will this show do for our business? Are we ready for the impact? We have been focusing on understanding what it means to double down and make it happen. But it's scary — the thought of being so public. Gotta get ready


And you, my friend, get ready to be arepa-ed at Pica Pica.