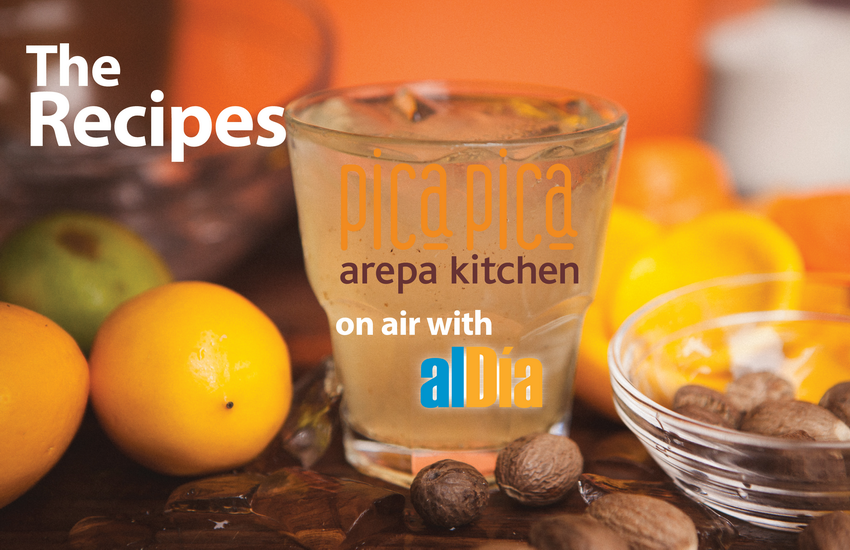 It took me a while to figure out the kinds of recipes that the producers for the Al Día show were looking for. For the most part, they wanted simple recipes that had a Venezuelan or Latin twist. The ingredients or flavors needed to be familiar to the audience watching it—connecting them to their cultural heritage through food. We took some risks making some traditional more complex things, like hallacas and bollos because they are so representative of our heritage. But mainly I focused on recipes that wouldn't require hard-to-find ingredients or a knowledge of special cooking techniques.
Here were some of our favorite, featured dishes:
Soups: Avocado (served cold) and leek
Drinks: Lemonade and fresh fruit juices
Breakfast: Arepa with Perico (Venezuelan scrambled eggs)
Sauces: Ajiceros (spicy pickled sauce)
SOUPS
Makes about 8 cups of soup.
To make a good soup, you need a good base and good stock.
3 garlic cloves, smashed
2 tablespoons vegetable oil
1 white onion, diced
3 scallions, sliced
1 leek (white part only) diced
2 celery stalks, sliced
1/8 of a bunch of cilantro
6 cups of chicken stock (preferably made using the carcass of a roasted chicken)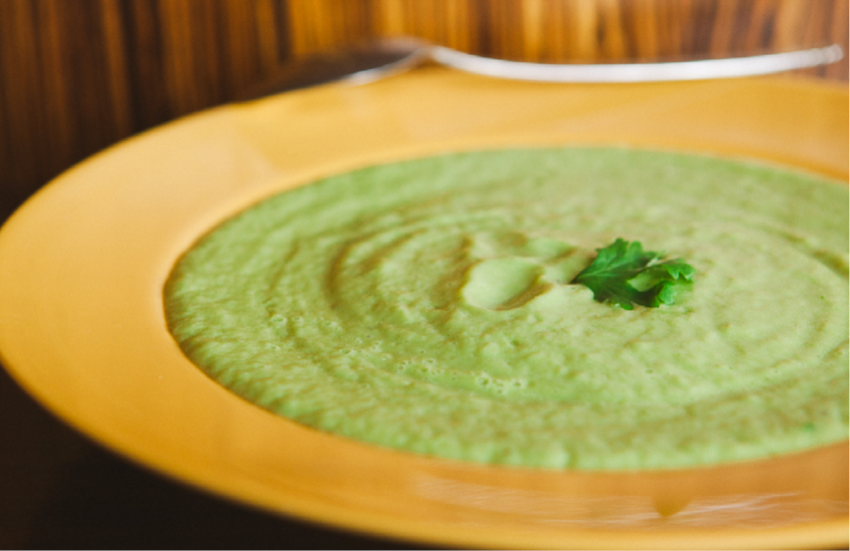 In a pot, heat up vegetable oil and then add garlic, onion and scallion. Once these are almost transparent, add the leeks, celery and cilantro and let cook for a few minutes. This is your white sofrito base for any vegetable soup.
For the avocado soup, first transfer sofrito base to a blender, then add the stock and 3 avocados, and salt to taste. Blend until it's creamy. Serve immediately, or chill in the refrigerator for no more than a couple of hours.

To make a leek soup, use the same process for the sofrito base above, but only use garlic (diced finely), onion, and scallions for the base. Add three stalks of leeks, white part only. Heat up with chicken stock, a bay leaf, and a teaspoon of butter. Add salt to taste and serve warm.

DRINKS
This was a fun recipe to make with Leticia, because it's not only easy but also a nice thing to offer to your guests or family during a meal. We made lemonade, papaya, pineapple and watermelon juice. In Venezuela it's tradition to make 'batidos' using fresh tropical fruits. The process is rather simple: In a blender add water, chunks of your favorite fruit, ice and sugar. But my twist on this drink is the sweetener. I like to make a simple syrup and add different spices to add depth to the flavor.

Simple Syrup:
1 part water
1 part sugar (I like to use Turbinado sugar, unprocessed sugar cane)
Mix in a pot over low heat and stir until the sugar is dissolved.

For flavor add either of these options while heating the syrup: cinnamon stick (goes well with papaya), basil leaves (great with watermelon), nutmeg (great for lemonade), cloves (pineapple or mango), cardamom seeds (try it with passion fruit) or make up your own! Remove the spice once the syrup has cooled off, save the syrup in a glass bottle and use often.
BREAKFAST
Perico for breakfast!
In Venezuela the arepa is considered our daily bread and it's eaten during breakfast, lunch, and dinner. Perico is the Venezuelan version of scrambled eggs and we serve it inside the arepa bread!

To prepare the eggs use:
¼ cup of white onions, diced
¼ cup of tomatoes, diced
4 eggs beaten with a pinch of salt and pepper
**Optional, add diced ham
In a pan, heat up a splash of vegetable oil. Then add onions and cook until transparent. Then add the tomatoes and sauté them for a couple of minutes. If using ham, add the ham and finally the beaten eggs and scramble. Serve inside an arepa!

AJICEROS
Ajiceros are traditional Venezuelan sauces that are used to add a spicy kick to soups or BBQ meats. Essentially it's a spicy pickled sauce that enhances the flavor of pretty much anything.   To make an ajicero:
2 cups of white vinegar
¼ cup of sugar
6 garlic cloves
A good mix of spicy and sweet peppers, sliced keeping the seeds
1 carrot, sliced
2 sprigs of cilantro
In a pot, bring the vinegar to a boil. Once it boils, turn off and add the sugar and all the ingredients. Let rest. Once it has cooled off, bottle in transparent bottles that are good for pouring. Keep it on your table or kitchen counter and add it to different dishes while cooking or to finish a dish.

These were really simple recipes and it was great to make them with Leticia who appreciated the connection to her heritage. We are pretty sure that these recipes connected with our audience as well.
Try these recipes with your own variations and let us know how they come out. Particularly the soups… they are my favorite thing to cook and I would love to hear your ideas!