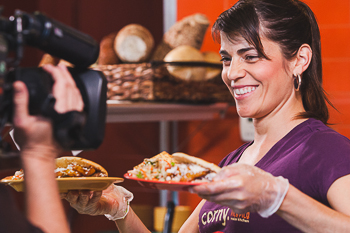 A life well lived has a little bit of this and a little bit of that. That's the idea behind Pica Pica Arepa Kitchen, its signature arepas and how I approach life.
Being a native of Caracas, Venezuelan with a degree in Cultural Anthropology, I always wanted to do something that kept me connected to my heritage. I've achieved a big part of this dream by launching and running restaurants in San Francisco and Napa. It's been an incredible, personal journey — one I've been making since 2006.
The most rewarding experience throughout has been introducing arepas to people. The expression on their face after they experience their "first time" with the crunchy corn pocket and the finger-licking, stewed fillings, is awesome!  Leave a quick shout out in the comments right below. You can subscribe to the blog in the menu above. Join me along the journey and share with me your stories, recipes and ideas. I promise to keep it interesting.
Be corny,
Adriana López Vermut – Owner Pica Pica Arepa Kitchen
(Español)