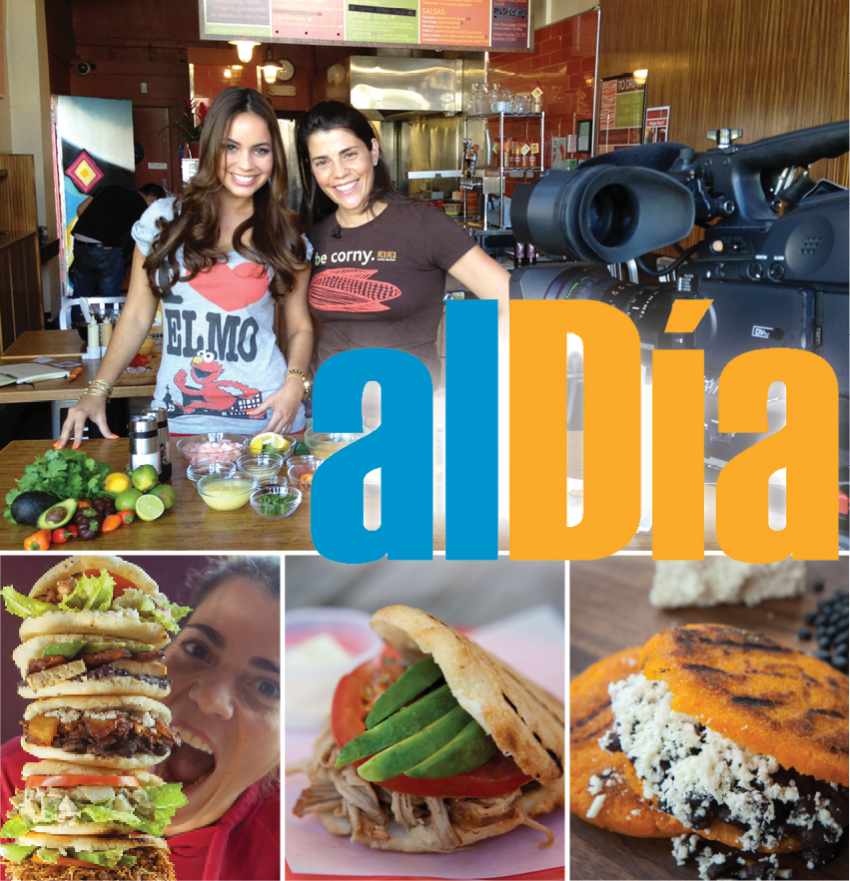 After filming the first few segments with Leticia Mendoza for Estrella T.V., Jose Luis Cosme, the show's producer, got back to me saying that the show was well received and had good ratings. They wanted to continue filming with me weekly. I was elated, but also nervous. What would this kind if show look like? It could be an opportunity to showcase Pica Pica's recipes, but that really wasn't my intention or that of the segment. A lot of the recipes at the restaurant are long and take time to prepare. The producers were looking for quick and simple dishes their viewers could make at home.
In order to better prepare myself for what was to come, I thought a lot about the audience of the show. Most of the people watching are Latin or have a Latin background, so they are familiar to some extent with the ingredients or preparations of these foods (i.e. avocado, plantains, yuca, sofritos, cold soups). I decided to focus on recipes that would offer more insight into the elements that make Latin food, through the lens of Venezuelan flavors, so distinct.
I used my host, Leticia Mendoza and the producer, Jose Luis Cosme, as a reference for my ideal viewers. I thought of people that have grown up eating their grandmother's or mother's stews, slow cooked meats, fresh soups and salads, but that don't have the knowledge or the time to make some of these more traditional lengthy dishes. I decided to present recipes that could be simple for people to make but also evoke memories from childhood or their heritage.

Filming the show with this intent was great. I remember making the cold avocado soup and how delighted Leticia and Jose were because it presented a fresh take on a very familiar ingredient. The flavors of the white sofrito base and the creamy texture of the soup, was new and old at the same time. Sometimes the recipes made a lot of sense, like empanadas, leek soup or the steamed sweet plantain. But there were other recipes that I knew weren't familiar but that would still trigger a strong connection to their culture, such as the hallacas and bollos.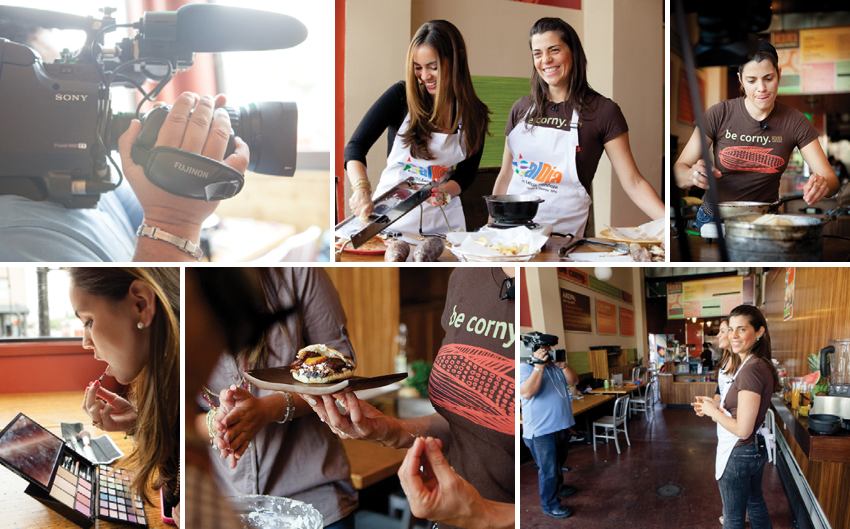 To drive the point home about how these simple recipes connected people with family, I invited my father Leoplodo to make Ponche Crema or Venezuelan eggnog (a typical Christmas treat) with me. This simple recipe brought all of us through together through our memories of the holidays and joyful celebration. For me, the simple demonstration also spoke to the motivation behind Pica Pica: for my father and I to stay connected through our memories and heritage around food.
Over time, I have come to understand something about the first time people experience eating an arepa at Pica Pica. Often when people taste an arepa, particularly an arepa pabellon, they say it's the best thing they have ever eaten — It's "amazing", "good", "tasty", "fresh" and many other things. What I think happens with that first bite is that it triggers a cord in their memory and they connect the flavors to something in their history. While it might not be a memory connected to an arepa (although sometimes that is the case with Venezuelans), the flavors take people on a journey.

Latinos have an immediate reaction to the slow cooked carne mechada (shredded beef) and the sweet plantains, because the flavors and textures are so familiar. For North Americans, the taste of the sweet corn arepa with plantains, stewed meat and beans is reminiscent of eating BBQ pulled pork, roasted corn on the cob, or corn bread and beans.

Even though it might be a new experience, that first bite evokes something deep in some people and they love the food immediately. This became very clear to me during the filming of the segments. I made new dishes using traditional Latin ingredients and the crew would taste them and be lured back to a familiar place or emotion. This trigger is really the inspiration for the show and Pica Pica as a whole. Using core Latin ingredients, we can play with the food. Whether it's as complex as a dish at the restaurant or as simple as the food we prepared on the show, evoking that connection is my passion.