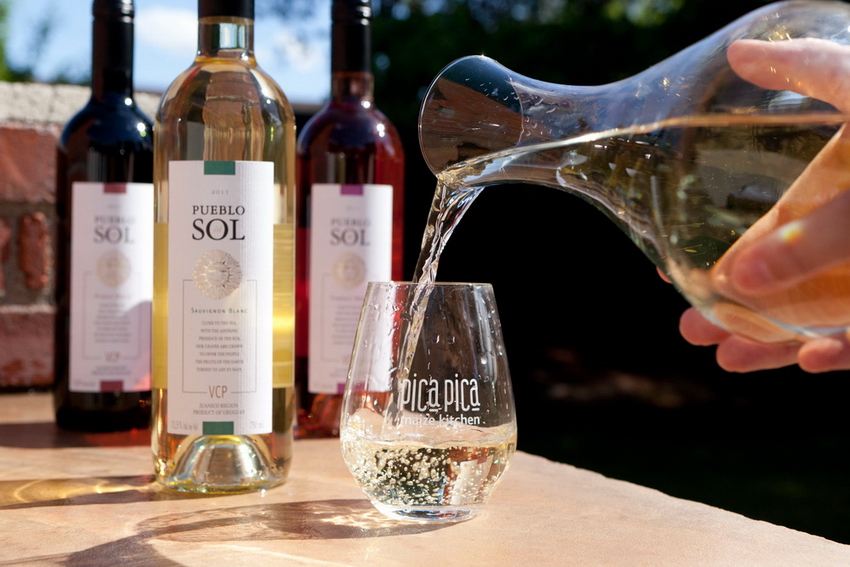 Because Pica Pica is Venezuelan-inspired, we are proud to offer our wine-drinking customers some of the top varietals and styles from South American winemakers – through TasteVino Selections of Napa. 
I came across TasteVino via the Melipal Rosé.  This was the first rosé we served at Pica Pica Bar since its opening in 2009.  I liked it because it is a crisp and fresh rosé that pairs very well with our menu.  We served it by the glass but I also used it at times to make rosé sangria (the addition of a few citrus elements produced a very refreshing and unique sangria). 
 I used to buy Melipal from a big distributor, but one day it was no longer available and I dropped it from our offering. However, out of the blue a very nice lady, Irma Robinson, called me and insisted for a few months that I continue to offer Melipal Rosé.  Since I liked the wine I went ahead and brought it back. Little did I know that I had stumbled into a mountain of knowledge on South American wines.  Irma is Latina, like I am, so we hit it off right away. We both share a passion for high quality, family produced wines.  And she has something I don't, which is the first-hand experience of knowing many of the winemakers down south and understanding the complexities of this wonderful region.
Not long after meeting Irma, I decided to work solely and directly with Tastevino Selections and carry only South American wines at Pica Pica Bar.  Why?  We are a Latin concept and therefore should offer South American wines, which people want to know and love, but are not sure how to approach sometimes.  With Tastevino we have worked on educating our customers on the better known grapes like the renowned Malbec to the lesser known varietals such as Torrontes or Bonnarda.  People are somewhat familiar with Argentinian and Chilean wines, but not so with wines from Uruguay.  Through our Tuesday night specials and special of the month, we have carried a wide variety of South American wines not available in most bars and restaurants in Napa. 
Just as the wines of North America developed their own distinct characteristics that differ from European wines, so too did South American wines. While virtually all of South America's vines were brought from Europe, different varietals thrived in this southern latitude continent; the grapes and therefore the wines were influenced by South America's own unique terrains and climates. For example, while the Malbec grape originally grew (and still does grow) in southwestern France, in Argentina, Malbec thrived and has become a "national variety," the most widely grown grape and signature wine of that country.
Two wines we  serve at Pica Pica Bar are Argentine Malbecs, a blend and a blush; I asked TasteVino Selections owners Irma and her husband, Chef Morgan Robinson of SMOKE Open Fire Cooking, to provide a brief description of the wines and suggest a food pairing from Pica Pica's menu.
SERRERA WINERY: Serrera del Pecado 2008 Cabernet/Malbec Blend
Rich and robust, with subtle tannins and a nice mid-palate. We're betting this will be your new house red.
Suggested food pairing: Maize'wich Pelu'a, shredded beef with cheddar cheese
MELIPAL: Melipal Rosé 2010 (made from Malbec)
This is one of the most incredible rosés we have ever tried. Made from the Malbec grape, it offers the perfect balance of ripe fruit and beautiful acidity. Versatile for pairing, it is equally gorgeous on its own.
Suggested food pairing: Venezuelan Empanadas
I hope you have the opportunity to come by Pica Pica soon and taste some of these great offerings from TasteVino Selections; you just might find you have a taste for South American wine!