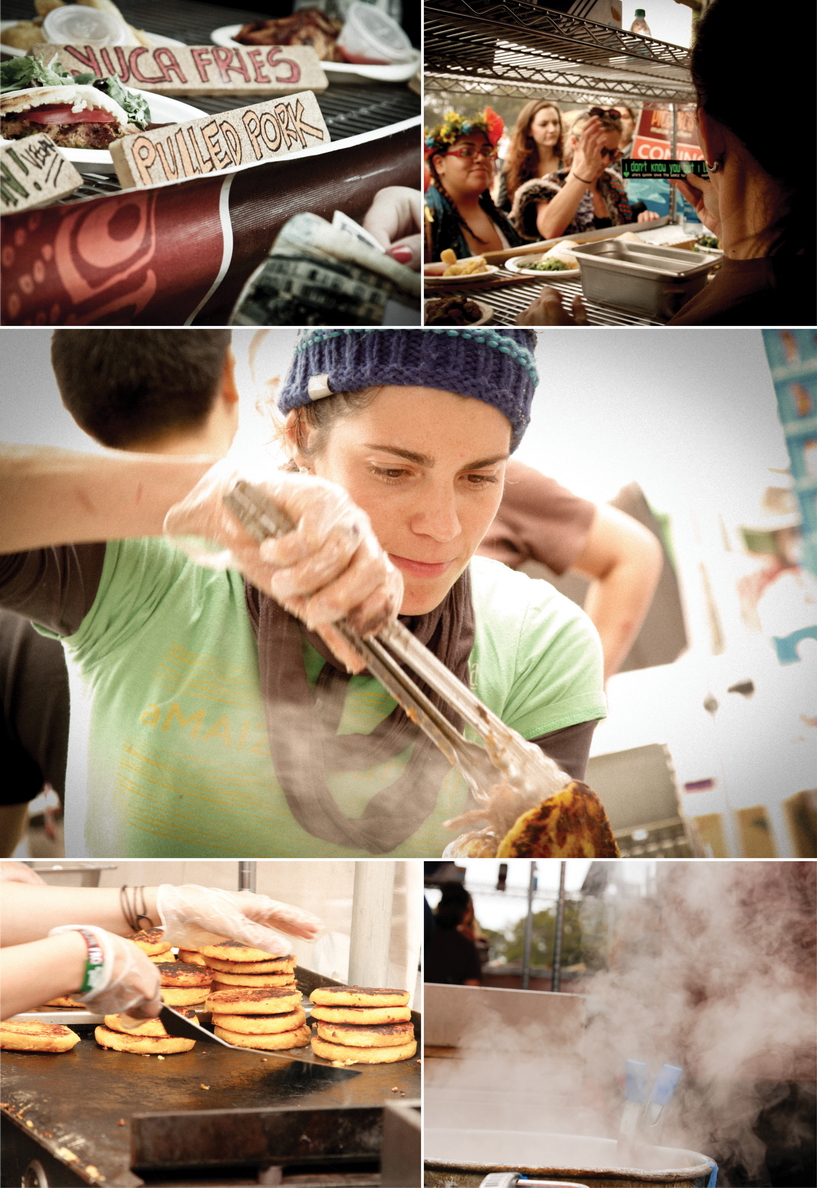 Running a successful restaurant means following your heart.  You have to take big risks, setbacks and failures in stride and love it when everything does come together.
This year was our fifth as a food vendor at Outside Lands – Pica Pica has been there since its inauguration, in 2008.  It's very cool to see how this event has become one of the most well-attended and critically acclaimed music, art and food festivals in the Bay Area. 
In 2008, nobody really knew what to expect, vendors and organizers alike.  It was a big risk for us, a small restaurant at that time just in Napa, to consider it.  I remember we made 500 arepas and maize'wiches, thinking we would probably sell 400-450 through the entire three-day event.   At 8 p.m. on Friday, right when Radiohead was playing, we had nothing left.  We were so exuberant, until the panic set in. 
We had to close early with nothing left in the coolers; but worse, we had to get the Napa restaurant cranking at 10 p.m. to make 1500 more arepas and maize'wiches, plus fillings (shredded beef, black beans, pulled pork and chicken salad) for Saturday and Sunday.  Our cuisine is freshly prepared and slow cooked; it takes a good day to prepare and allow for fillings to simmer.  After raiding Napa's coolers, leaving them empty for Saturday, we called in staff to help.  Our entire amazing staff worked around the clock for two days to keep it all going and meet the demands of the Outside Lands crowds.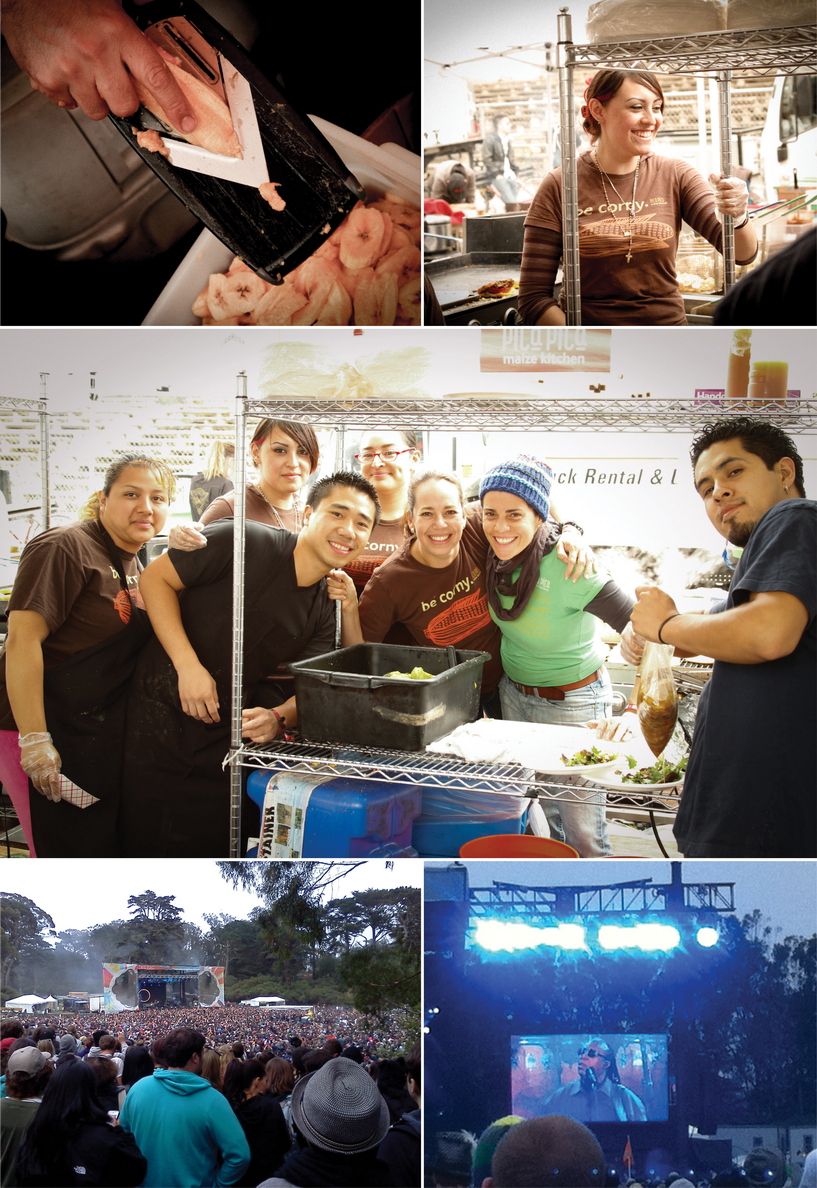 Outside Lands 2008 was our first outdoor event—ever.  Once you survive that, anything else pales in comparison.  Over the years, we've adopted an Outside Lands strategy and team. We've learned a lot;  serving up our food at events keep us in touch with our customers.  It's also a great place to make new friends and gain valuable feedback on what we're offering.
Going into Outside Lands this year, we were ready to kill it and have a good time too.  We kept our offering simpler than in years past.  We offered arepas and maize'wiches, no cachapas.  For fillings: pulled pork Pernil, shredded beef Pabellon and a Vegetarian/Vegan (by far one of the most popular items), yuca fries and sweet plantains.   Each day we ran out of sweet plantains and maize'wiches first.  People sure have a sweet tooth!
With an endless line of hungry festival-goers that lasts for hours, the event can be brutal.  Organization and contingency planning are key.  It feels like it's a two week event, since we have to start preparing food days in advance; and it takes days to recover once we close out and clean up. This year we had two teams working shifts, and the kitchen in San Francisco was at the ready to prepare more breads and fillings as needed.   San Francisco made 250 additional maize'wiches on Saturday night for Sunday, and we still ran out mid-day Sunday.   Nothing can compare to seeing people's eyes light up when they first see an arepa, plantains, and yuca fries.  I love all the chatter in the customer line about the food and their experiences.  Over the years we've seen many new faces return to the restaurant.  It's everything I could have ever hoped for, so the hard work is worth it all.
This year we wanted our annual ticket raffle to reward our most loyal and enthusiastic customers. Instead of asking for people to just drop a card in a box to win, we asked customers to take a photo of themselves eating at Pica Pica.  The submissions were so inspired; I really wish I could have given tickets to everyone who submitted a photo.  Special thanks to our winners, Laura and Elaine, for serving as our Outside Lands field reporters and sending us photos of their experiences this year.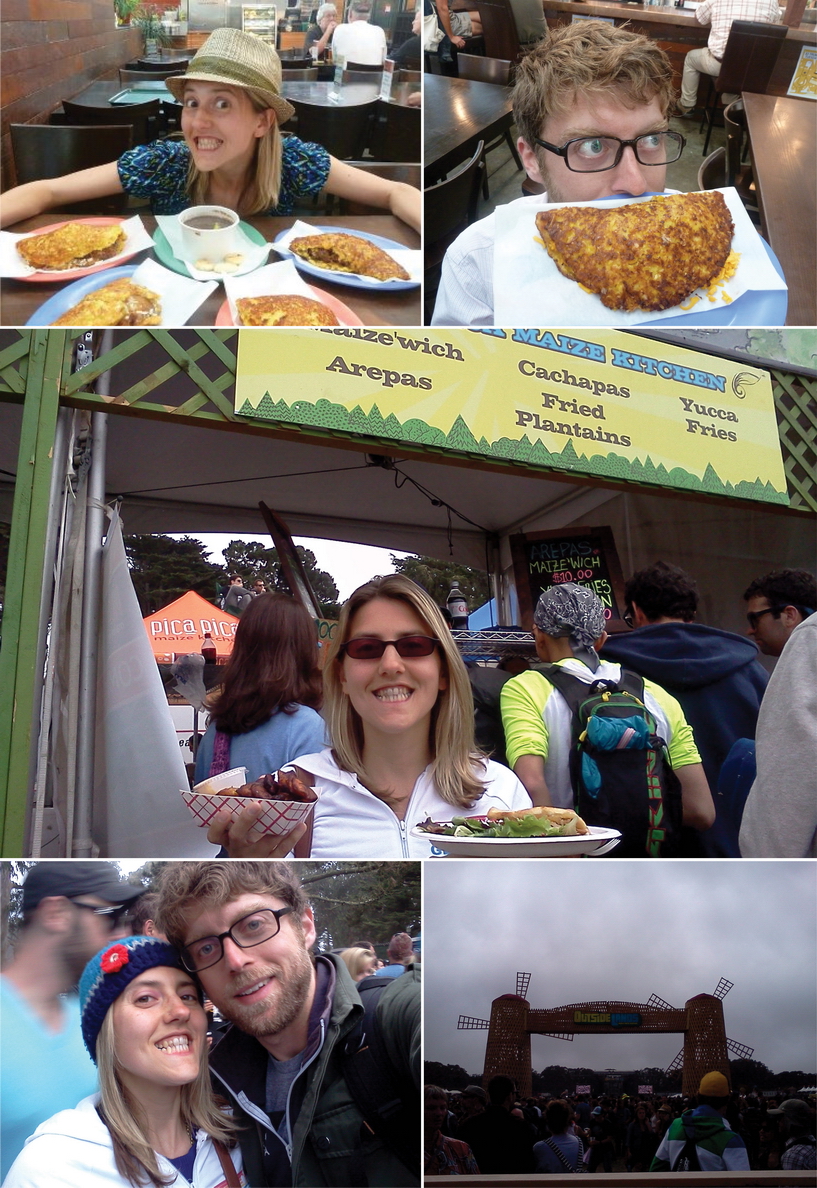 We're already looking forward to next year.  Our success and growth has mirrored that of the Outside Lands festival.  The rewards have been sweet and savory, just like our cuisine.