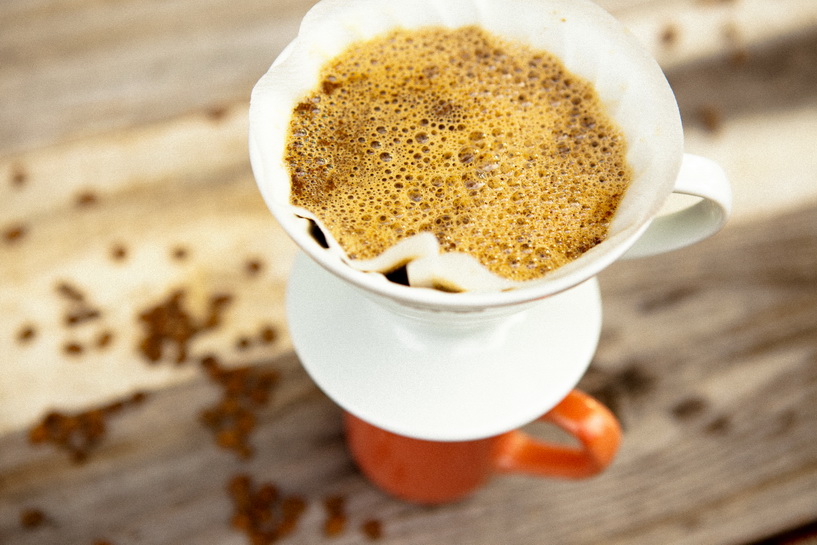 There is nothing better than a properly brewed cup of coffee — before, during or after a meal.  My preference is a good espresso or macchiato after dining, but that's a luxury mostly reserved for full-service restaurants.  The reason Pica Pica doesn't serve coffee at the Oxbow Public Market location is because Ritual Coffee Co. is a co-tenant; and I wouldn't even want to compete!
When we opened on Valencia Street in San Francisco, we didn't think about coffee because it wasn't part of our offering in Napa and because Four Barrel Coffee is less than a block away.  We didn't want to compete with that company either.
But after awhile we realized that although coffee is not our main focus, we shouldn't shy away from serving a simple, quality cup of coffee to our customers.  So I decided to look for the right coffee to serve. I called Philz Coffee, whom we got to know one year as neighboring vendors at Outside Lands, but they don't retail to restaurants.  I wanted to use one of the local roasters like Four Barrel, Ritual or Blue Bottle, but I didn't want an espresso machine and all the resources required to make the perfect latte, Americano or espresso.  So we finally found Equator Coffees based out of San Rafael, CA.
Equator Coffee works with great coffee roasters in South America (Colombia, Ecuador and Peru).  Their roasting style fits perfectly with our Venezuelan flavors.  And they taught us how to make the perfect cup, one at a time.
Of course, nothing is simple in life.  I didn't want to set up a drip coffee machine, and they didn't want me to serve the brand like that.  So they taught me the importance of abiding by the basics:  hot water up to 205 degrees, the proper grinder, a scale and the right porcelain filters and tower.  So we got our set-up, took our coffee lesson and voilà!
To prepare a good cup of coffee:  grind the beans just before brewing, as their flavor really is optimal for 10 seconds after roasting (yes, so you should not buy ground coffee at the supermarket…!).  Coffee beans are at their best within 10 days of being roasted.  And a good cup of slow drip coffee only uses 19 particles of the 100 soluble particles of the grind.  Less than that: under brewed; more than that: over extracted.  So we found the right balance for our perfect mug of coffee: 26 grams of ground beans dissolved in 300 grams of water.
So yes, we weigh our ground beans and water each and every time; and we make each cup of coffee individually, one at a time.  Why?  Because it matters in order to get the perfect cup of coffee.  It is important to respect the process of how things are made and served.  It is how we want to do things at Pica Pica.   I am really excited about being able to serve good South American coffee with our delicious, handmade arepas!
We plan to rotate the Equator bean selection seasonally; and every time we introduce a new coffee we will have one of the company's brewers come to Pica Pica to showcase the beans and discuss how to brew a simple yet fantastic cup of coffee!