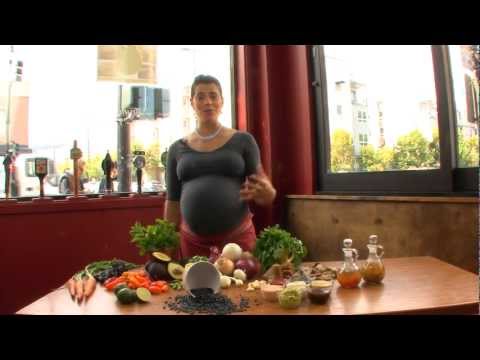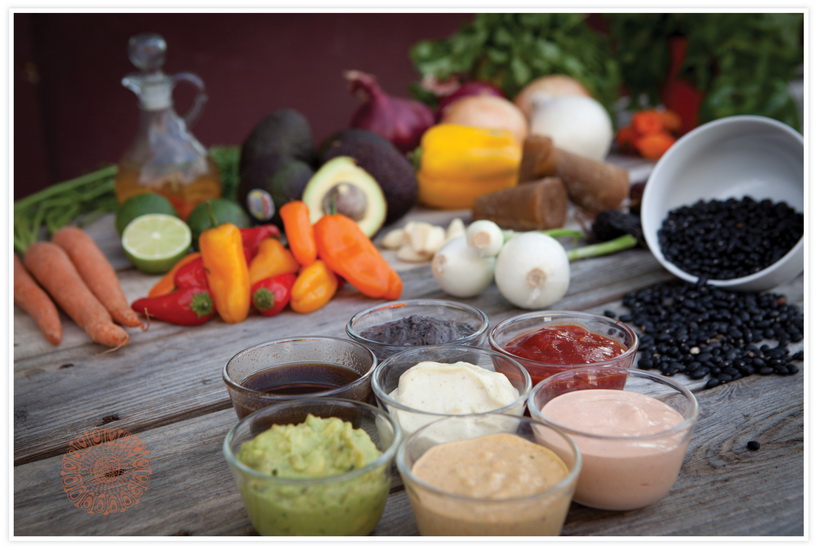 Pica Pica's main inspiration is Venezuelan food – from the arepas to the fillings and overall flavors that define the menu.  That said, we are also open to adapting to our California customers' expectations and desires.  Our SALSAS are a great example of this:  Five years ago, when we started doing tastings in my home with friends and family, everyone loved the food, but there were always the same comments. . . "If only this had some salsas it would be perfect," or "Where is the salsa?"
At first I was confused; in Venezuela we don't have dipping sauces or  salsas on the side.  These expectations for salsa come from the Bay Area's familiarity with Mexican food, which has amazing fresh salsas, as well as the purely North American habit of having a variety of dipping sauces to go with fries and other finger foods.
We took these requests to heart and got to work in the kitchen. We developed a range of salsas that go from sweet to very spicy, thin to thick and present a  glorious array of colors and flavors.
Pica'Pun, our signature hot sauce, is a take on my father's own secret hot sauce.  But we make it slightly more spicy than his original, as we found some people want firey intensity in a spicy sauce.  So we amped up the habaneros!
We then thought of Pica'chup- who can have fries without ketchup to dip in?  Ours is a smokey version of  regular ketchup, just enough punch to make you dip more than once!
Morena (a word used to describe Latinas of dark or tanned complexion) is  black bean sauce with some acidity and a salty edge.  It is not spicy, and pairs well with our cheese empanadas or tostones.
Guasacaca is Venezuela's version of guacamole sauce.  This is not our invention; Guasacaca is typically eaten with barbecued meats, or added to the Reina Pepeada filling.  It is primarily chunky avocado, with a tad of spice but not too much. We think it is perfect with our Venezuelan empanadas, or any of the arepas, as a fresh side complement.
Mela'o is syrupy and sweet, as its main ingredient is pure sugar cane, our key sweetner at Pica Pica.  It has an acidic edge to it that comes from tamarind.  This one is not spicy at all; I think it goes great with our yuca fries.
Aioli is used only with the pernil (pulled pork) filling;  its combination of spices give the pork a perfect finishing touch.
Ajicero is a sort of spicy pickled vinegar which is used throughout Venezuela.  The presentations vary, as in the Andes it is made with a dairy base (ajicero de leche) and it is white.  But the most common version is what we serve in the little glass vessels on each table at Pica Pica.  It is very thin and not overly spicy.  It is great to add to soups or on the meat fillings if you are looking for a bit more brightness in the taste.
Traditionally, Venezuelan food is not hot or spicy.  In my childhood home in Caracas, my father always loved to add some spice to meats, stews and soups.  That is a personal touch that shows up in our kitchen at Pica Pica!  I have found that it is too spicy for the native Venezuelans that visit us but not spicy enough for our San Franciscan crowd!  That is why these sauces are a perfect way to balance your choice of added spice or flavors to our dishes without compromising the integrity of the food.
My resolution for 2012 is to push my boundaries and explore new things, which include  experimenting with new foods and flavors.  My hope is to go deeper into what I know about Venezuelan food and find a way of introducing more of that heritage into our kitchen.  But the bigger challenge remains in discovering how to translate and share this in a way that our customers will enjoy and appreciate.
So the year began in the kitchen, exploring, cooking and tasting.  I am excited for what 2012 will bring; more on these explorations later.  For now, I encourage you to push your taste buds to new frontiers and to experiment and explore with our SALSAS!