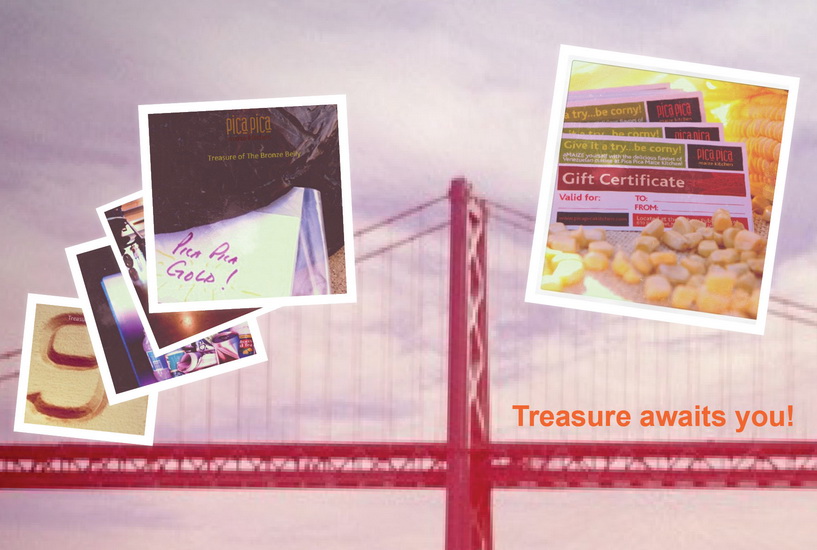 (Revised Nov 27, 2011)
Life should always offer moments of mystery. We've hidden "Pica Pica Gold" all over the Bay Area, in every day places.  "Like" us on Facebook for clues, special whispers tweeated.  You never know what might turn up.
3 WAYS TO WIN 
FIND THE TREASURE! Go to any Pica Pica and spend it!
PHOTOGRAPH THE TREASURE! "Like" our page.  Post a self portrait of you, the treasure and where you found it to our Facebook wall to be entered into our monthly drawing worth twice the bounty!
PHOTOGRAPH THE REMAINS!  Anyone who "Likes" our page and posts a photo of themselves, to our wall, at any site where a treasure was (after some smarty pants stole it from you), will be entered into the monthly drawing for "Pica Pica GOLD SWAG."  Extra love for smiles.  You can enter more than once by posting a photo from any of the locations for that month.  If we get too many enteries to have good odds to win, we'll pull two names!  Better luck next time!
TREASURES
Pica Pica GOLD = Gift certificate for: 1 main item, 1 side item, 1 (non-alcoholic) beverage.
Pica Pica GOLD SWAG = Pica Pica Gold + a "be corny" t-shirt or related swag.
Pica Pica GOLD CATERING = $100 in catering delivered to your office. (Catering treasure NOT redeemable at restaurant. Catering treasure may be used towards larger catering order.)
Concert tickets, Football, Baseball…. It's all in the works.  Stay tuned…
GUIDELINES
Guidelines subject to change without notice.
Pica Pica will not bail you out of jail if your're caught digging holes all over the City, or climbing a top of bridges!