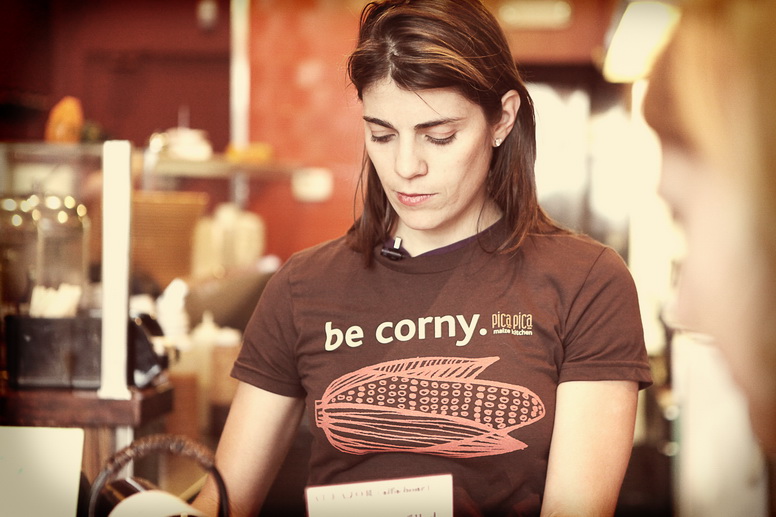 Journal Entry # 1
The concept of starting Pica Pica for me was a way to re-connect with my personal heritage.  I missed the food of my county and felt people of the Bay Area would enjoy the food, as I had  while growing up.  Three years later, I now run two restaurants with a third under construction.  Coincidentally I have a third child on the way too!  It makes for some busy weeks, juggling all the details along with new lessons and insights gained every week in running a restaurant, life, living and happiness in the Bay Area.   These are my stories behind it all.          
CULTIVATING CATERING
Over the past week we have seen great growth in demand for our catering services.  It is mostly corporate clients looking for something new for their employees.  Orders are sometimes small (15 people) and sometimes really large (125 people.)  The large ones are hard because we want to make sure we can deliver 125 warm cornbread sandwiches.  Our offering is different than cold tuna and turkey sandwiches that have a longer holding time.  Our offering is warm, and for that reason we try to start preparing with the minimal lead time needed so that the sandwiches are as fresh as when you eat them right out of the kitchen at our restaurants.  Well, that puts tremendous pressure on our team.  The feedback from people has been great; they love the food and keep ordering from us!  That is the best result one can expect!  But inevitably with anything new, we are learning to deal with a different client profile, needs and expectations.  Our biggest issue has been getting  large orders delivered on time.  We are hiring more people to make sure all orders come out with more fluidity.  But one has to take into account crazy things like the whole of downtown San Francisco being under construction, which adds 20 minutes to delivery times,  so there is NO parking available since it is all taken by contractors… all those details are easy to deal with, it is a matter of understanding and internalizing these as challenges.
This week we had a ton of deliveries and, well, not all went perfectly according to plan.  I take this as an opportunity to learn and grow and perfect the offering.  I am hoping we are seeing the end of these challenges.  But personally it has been hard to take those disappointments along with issues with the new opening in the Castro, issues related to permits with the new location.  I realize that few restaurant openings go through on time, but the delays are truly stressful. 
For me in particular, I am trying o get this opened some time before the delivery of my baby (November 2) and having that very set deadline is really stressful.  I still need to keep moving forward on all other fronts to keep the project moving ahead, as well as all of our efforts and new initiatives in Napa and on Valencia Street.   So when you add all of that up, it makes for a very long week…  thank God it is the weekend. Whatever that means…