I decided to experiment a little bit and see what someone unfamiliar with Venezuelan cuisine and arepas wold come up with for an arepa filling.  I invited Chef Amy Fothergill (The Family Chef) to Pica Pica to cook with me.  I taught her how to make an arepa and she taught me how to make one of her favorite vegetarian dishes, a sweet potato and black bean chili.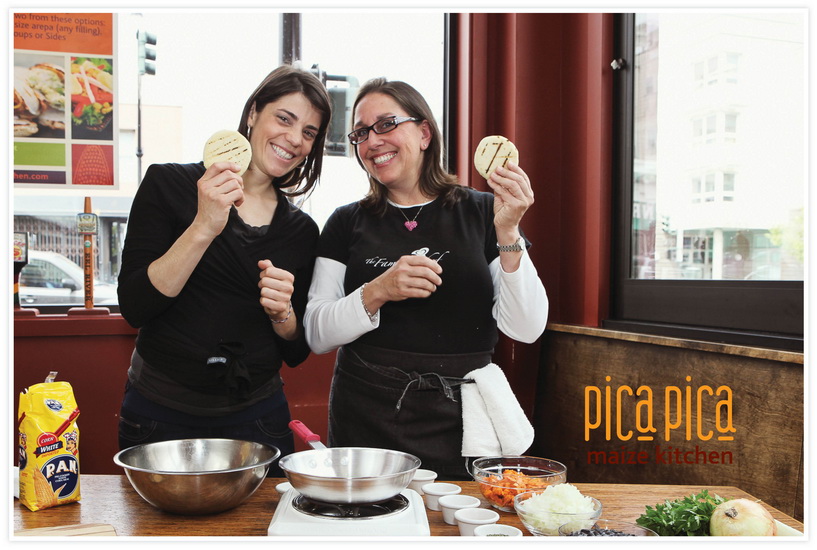 I thought of Amy because she has been a supporter of Pica Pica Maize Kitchen for a long time.  In particular, since Pica Pica is a 100 percent gluten-free restaurant, our menu offerings dovetail with one of Amy's professional and personal culinary focuses.  As 'The Family Chef" she teaches and counsels people about easy and delicious cooking that is also 100 percent gluten free.  Being corn-based, the arepa  is a perfect vessel for a lot of her recipes.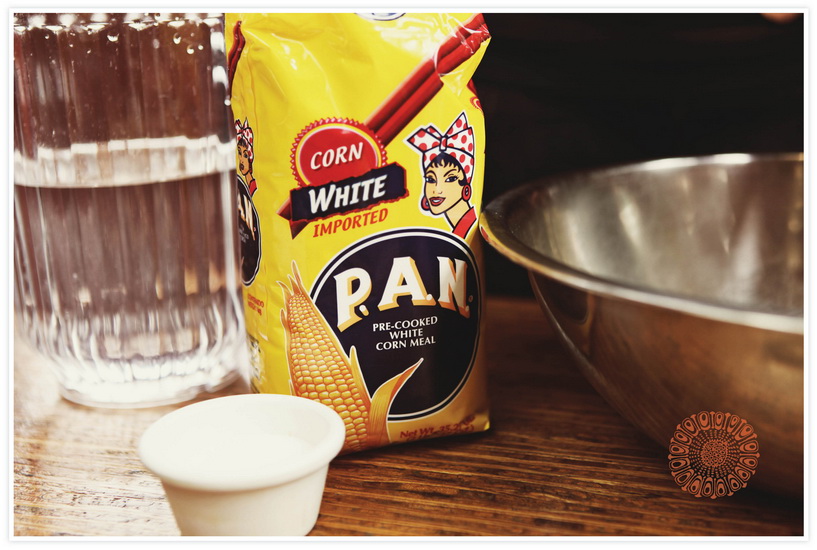 We made arepas from scratch, using HARINA P.A.N, the white corn meal we use at Pica Pica to make arepas (among other things).  This same flour so widely used in Venezuela, in areperas as well as households, is the basis of our delicious daily bread.  
For the benefit of our gluten-intolerant readers, I would like to mention that Pica Pica has had HARINA P.A.N flour independently tested (as it is an imported product) to check for any traces of gluten.  The lab results confirmed the flour as five parts per million, which for most people works as a gluten free item.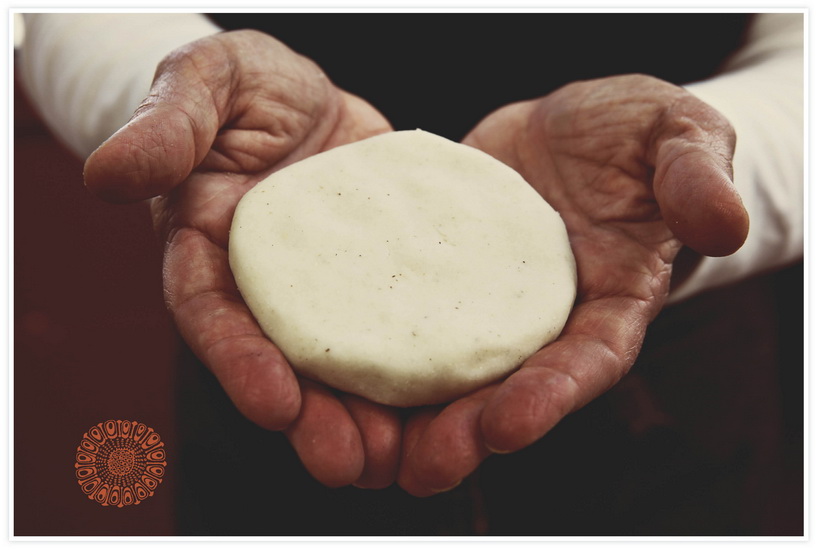 The arepa is a corn flour bread that has been eaten in Venezuela for centuries, originally by a variety of indigenous tribes across the region and now in every Venezuelan household nationwide.  To learn more about the arepa, its origins and how it is made, check out this post: The History of the Arepa. Amy's recipe for her vegetarian chili used some very simple core ingredients and was enhanced by a delicious combination of spices.  Basically the recipe has onions, sweet potatoes, black beans, diced tomatoes, cilantro, queso fresco and spices.

She used cumin, coriander, black pepper and paprika bring out the flavors of the key ingredients.  The combination of spices made for a very aromatic chili.

The sweet potatoes should be cooked prior to mixing into the pan (microwaved or boiled, either works).



It was great fun showing her how the arepa, after being sealed and cooked on the grill for about 10 minutes, is ready to be cut and filled.  It is important to cut the arepa only half way in order to create a 'pocket' that will hold the filling well, particularly a chili mixture.

We proceeded to stuff the arepas with her filling…

… the colors were amazing: red, orange, black, green, white.  Really appetizing and aromatic!  I really didn't know what to expect, as I am used to serving the arepa with our more traditional Venezuelan recipes.  But I have to tell you, the experiment worked!  It was really very, very good! And not as messy as I thought it would be!  The ingredients held together really well.
The idea was to show Amy how versatile the Venezuelan arepa is.  And I think we proved it!  Go ahead, try the recipe below at home and let me know how it goes! 

Amy Fothergill writes a wonderful blog.  Check out her links below.  On her blog she shares secrets with you about how to juggle cooking with any busy lifestyle. She is available to conduct cooking classes or parties in your home as well as meal consultations. She can teach you everything from cooking basics to shopping strategies and will provide you with multiple recipes and useful kitchen tips. 
What do you think? What would you like in your Arepa? Maybe we'll make it into one of our specials…