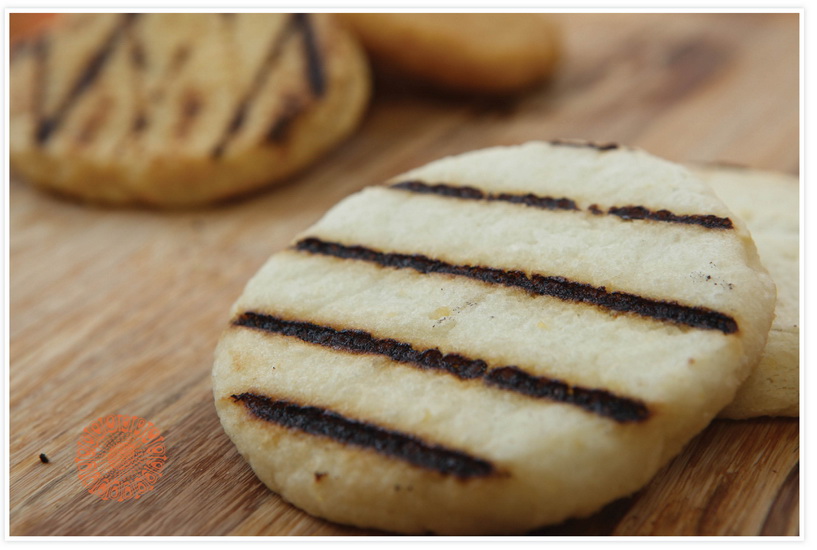 The word AREPA comes from the indigenous word EREPA, which refers to the corn flour bread that was commonly made and eaten among indigenous tribes across Venezuela centuries ago. In its simplest form the AREPA is a corn bread, made most often with white corn (Cariaco) and water. To this day, Venezuelans consider this simple but succulent corn bread a daily bread.  It is eaten in households and AREPERAS ( joints selling AREPAS) for breakfast, lunch and dinner.  Nowadays it is generally made with a pre-cooked corn flour (Harina P.A.N), water and salt.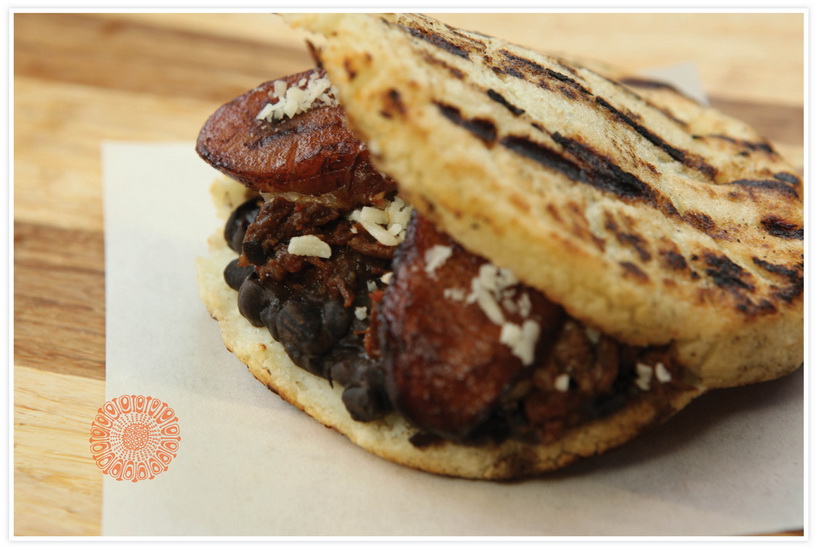 The modern Venezuelan AREPA is generally served as a sandwich. This corn flour bread can be grilled, baked or fried, cut lengthwise and stuffed with fillings ranging from the classic ham and cheese to the more complex but traditional PABELLON (below): shredded beef, black beans and plantains (or in some cases, caviar, for the extravagant ones…!).
The AREPA is cut lengthwise and stuffed with different fillings.  In this form, as a stuffed corn bread, it should be considered the equivalent of  the Venezuelan signature sandwich.  But the prevalence of the stuffed bread is relatively new, dating back only to the 1950′s.  Prior to that it was consumed as a bread, not a sandwich.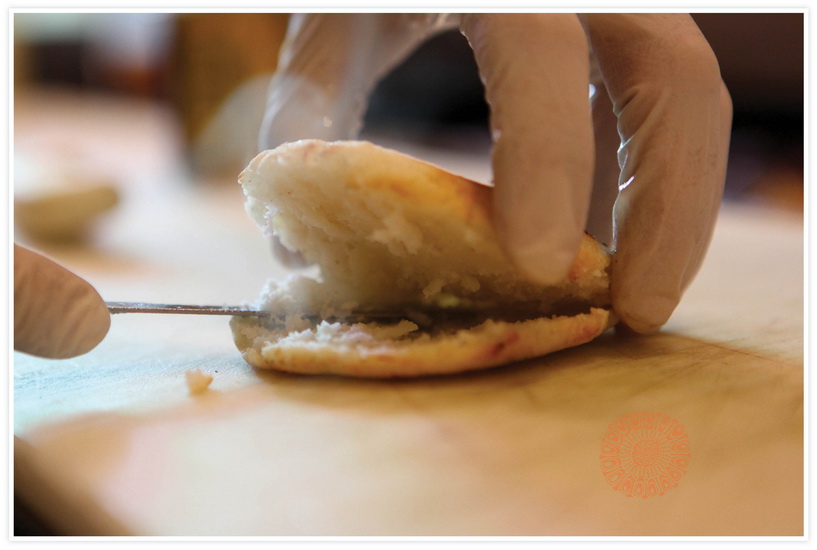 Along with the appearance and growth of AREPERAS came innovation, which meant stuffing the arepa with different and delicious fillings.  Anything can go into an AREPA as a filling.  Among the most popular ones are the Pepeada (chicken salad with avocado), Pelu'a (shredded skirt steak and cheddar cheese), Pernil (pork, tomatoes and avocado) and Catira (chicken sauteed in a sofrito base with gouda cheese).


California has inspired us to make some interesting combinations.  For example, due to the high number of vegetarians that visit Pica Pica, we changed the traditional Pabellon to Pabellon Vegetariano (grilled tofu, plantains, black beans and avocado) or the Shuli (black beans tossed with spiced tomatoes, onions, cilantro and avocado).

Pernil (pulled pork, sliced tomatoes and avocado) served with cilantro aioli on the side. The pork is soft, moist, filled with flavors among which you can distinguish some of the acidity characteristic of Venezuelan cuisine.

Pelu'a (shredded skirt steak and cheddar cheese).  The meat, called CARNE MECHADA, is skirt steak, shredded and cooked with a rich sofrito that includes red bell peppers, onions, tomatoes and a few spices.  The CARNE MECHADA is a key component of the PABELLON dish, which is served with rice, black beans and sweet plantains.  Some people make it very saucy, others very dry, and sometimes  it is fried (patas de grillo).  Whichever the presentation, it is delicious and comforting.

The REINA PEPEADA (or the spotted queen).  Chicken salad mixed with avocado and sweet peas.  Its origins date back to the hermanos Hernandez, owners of one of the first AREPERAS in Caracas back in the 1950′s.  It was an invention of their mother, and the name came as an honor to beauty queen Susan Dujim,  the first South American Miss World in 1955.  Some people claim the same PEPEADA comes from the sweet peas or the polka dot dress Dujim was wearing when she visited the Hernandez brothers.  Personally, I think it has more to do with the slang word PEPEADA, which means voluptuous and beautiful.

The Catira (sauteed chicken in a sofrito base and gouda cheese).  While not one of the most popular recipes for an AREPA  filling, it is more popular for the POLVOROSA de POLLO (our own chicken pot pie).  But its flavors are characteristic of our cuisine (sweet, sour and slightly spicy), a flavorful combination of fillings.  Some customers add plantains, which I think works very well with the chicken and cheese.

AREPAS can be tiny or large, depending on personal taste or the occasion.  Smaller ones are great for parties and kids! 

The AREPA is a very versatile food item that lends itself to exploration and interpretation.  This year,t o celebrate Earth Day ,we served green AREPAS with an arugula, carrots and avocado salad filling.  Go Green!  The essence of the bread (crunchy on the outside, moist on the inside) remains, with a different look and combination of flavors.

Bite-sized AREPAS are perfect for special events so that people can taste many different varieties of fillings.  Below, SHULI filling (black beans, spiced tomatoes) and PEPEADA (chicken salad with avocado).


Prior to advent of different  fresh fillings such as beef or pork  becoming popular, canned goods made it into the AREPA. And to this day one of the most popular fillings is deviled ham (DIABLITO UNDERWOOD).  Other options were sardines, tuna or other canned goods. Today we elaborate on the concept and fill it with grilled SPAM, cheddar cheese and tomatoes — Aloha, anyone?


Finally, an AREPA with a side of yuca fries is a perfect combination.  Just think of a cheeseburger with fries (or without fries?!).  You get the point…  enjoy!