The Venezuelan AREPA has its origins  hundreds of years ago, cooked by the various indigenous tribes across the country (Arawak, Carib, Timoto-Cuica, Cumanagoto, Karina, among others).  What was initially made with fresh corn is today usually made using pre-cooked white corn flour. Whether made with fresh corn or packaged corn flour, the AREPA represents Venezuelans' daily bread. It is eaten across the country, across all socio-economic groups, at all times of day.  
The AREPA has its name from the word EREPA, the indigenous word for this corn bread.  Today, the plain AREPA, a round, thick bread (very much like an English muffin), is  commonly referred to as the VIUDA (widow) when not filled.  Up until the 1950′s, when AREPERAS (joints or restaurants serving AREPAS to the public) were few and far between, AREPAS were  eaten primarily as a bread accompanying food or filled simply, with just cheese.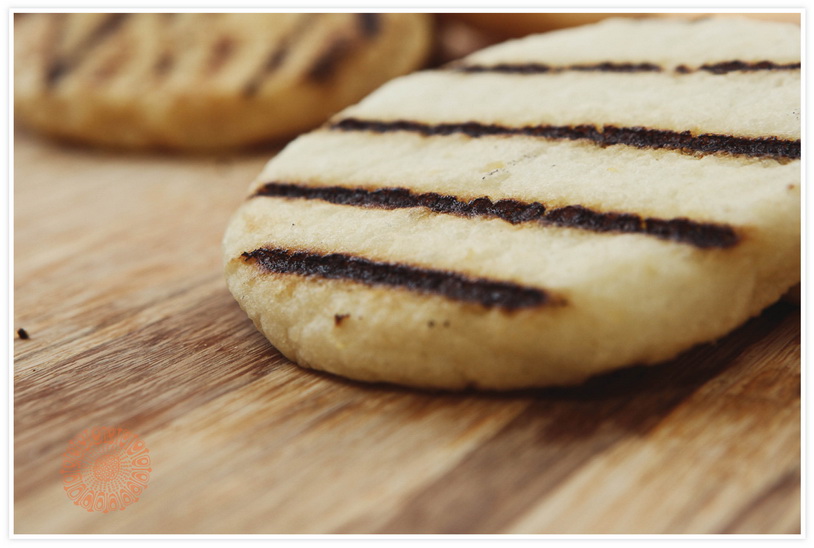 When AREPERAS started growing in popularity, people became more innovative with their fillings.  Initially the filled AREPA was referred to as "TOSTADA" but now it is simply called a filled AREPA or AREPA RELLENA.  The fillings vary and there are no set rules (just like with any sandwich, filling options are infinite).  But there are some recipes that have now become tradition: the Pelu'a (shredded skirt steak and cheese), the Reina Pepeada (chicken salad with creamy avocado), the Pernil (pork) and the Catira (sauteed chicken and cheese). Yet there is always room for innovation; here at Pica Pica, we have introduced a few vegetarian options that appeal to our Californian vegetarian audience, using tofu, plantains, beans, tomatoes and avocado.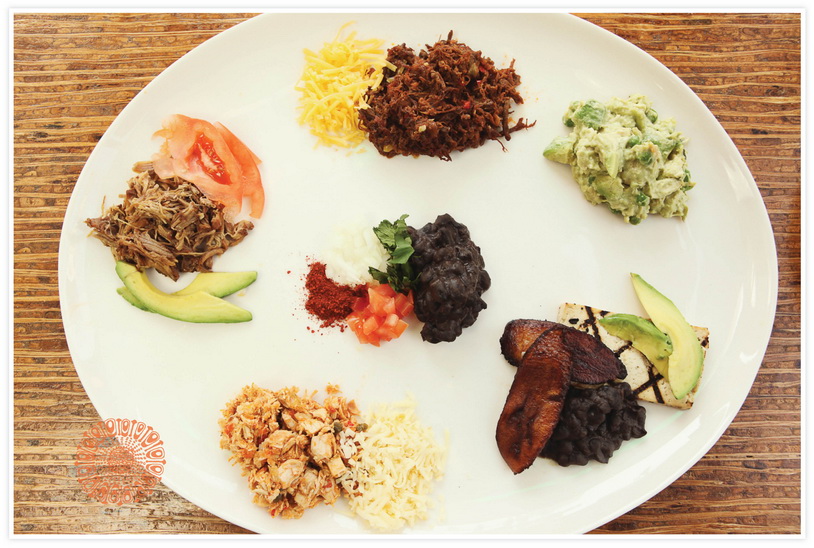 AREPAS can be made in different sizes (silver dollar pancake to burger size), thicknesses (as long as it can be cut lengthwise); and can be baked, fried or grilled (delicious over coals!).  They can be eaten alone, with butter, some cheese or any one thing that can act as a filling.  But Pica Pica has found that our most traditional recipes are the most popular ones, such as the Pepeada (below). I guess it just tastes Venezuelan…

Corn –it is thousands of years old, with hundreds of  native species from Canada to Argentina.  Historically it is a defining ingredient in the cuisine of the Americas, predominant in most civilizations, with great mythological as well as nutritional value.   In Venezuela the species primarily used to make the AREPA (fresh or with white corn flour) is called CARIACO (or Amapa) since it grows in abundance in that region. 


How to make the AREPA the way indigenous tribes did?  Back then they would shuck ears of corn, then dry them for preservation.  You can use fresh or  dried corn.  If using dry corn kernels, boil for 30 minutes and let soak in water overnight. After soaking, rinse well and drain.
Once the corn kernels have been soaked and  broken down, they must be ground.  I use a meat grinder at home but you can substitute with a grain grinder or a mortar & pestle.  Once ground, I add some water and salt to make the AREPA dough.  Make sure the dough is moist; the AREPA will dry during the cooking process, so add enough water to avoid cracks on the exterior and ensure a  doughy and moist interior.
In some regions in Venezuela (and in other parts of the Americas) ground limestone or ashes are used to break down the hull of the corn.  This produces a slightly different result, with subtle color, texture and flavor changes (the particular flavor of corn tortillas comes from this process).  The precooked corn flour Harina P.A.N used in Venezuela doesn't have lime in it, so while you can substitute with tortilla flour your AREPAS will look, feel and taste a bit different.  



As I mentioned earlier, the AREPA can be cooked in a variety of ways. At home I like using an ANAFRE, a handmade tin oven that is traditionally placed over coals and acts as a grill/oven.  If making these at home, seal the AREPA in a hot pan by searing both sides quickly; then finish the cooking process in the pan, or transfer to a grill or a conventional oven and continue to heat until the AREPA is golden brown and the outside is crunchy.



AREPAS made the old way, from fresh corn, are simply delicious.  While it is a very time consuming process, it's fun to do every once in a while! In the meantime we are lucky to have modern pre-cooked flour to make our beloved AREPAS readily available!

This corn bread is highly versatile: in essence it is a corn pocket that can be filled with pretty much anything.  For example, one of our favorite vegetarian fillings came inspired from an Israeli friend, Shuli Madmone, who owns the spice store Whole Spice in Napa, California (in the Oxbow Public Market).  We toss diced tomatoes and avocado with a special concoction of his spices and mix it with black beans.  It is spicy and tastes completely different from our traditional Venezuelan recipes; but it was fun to create and continues to please  both our vegetarian and meat-eating customers!

The Pabellon Vegetariana takes two of the main three ingredients of the traditional Pabellon, plantains and black beans, and replaces the meat with grilled tofu and avocado.  It's Venezuela with a touch of California, a surprising combination of textures and flavors.

When the Reina Pepeada was introduced in honor of the Venezuelan Miss World 1955 Susana Dujim,  it was unique to any other AREPA filling.  Today, it is one of Venezuela's most popular flavors for an AREPA RELLENA. So who is to say that there is just one way of doing things? Back then when AREPAS were just starting to be used as sandwiches, people experimented, and some combinations have withstood the test of time! 

The Pelu'a gives center stage to the traditional Carne Mechada (shredded skirt steak made in a sofrito base) with "Queso Americano o Amarillo" on top.

Pernil is usually served with slices of roasted pork shoulder.  At Pica Pica we serve it with pulled pork, avocado and tomatoes.


Here is the favorite in many Venezuelan households and at Pica Pica – Pabellon.  This dish embodies our mestizaje: the corn AREPA and black beans are indigenous to South America; the plantains were brought over from Asia; and the stewed meat exemplifies one of the European influences found  inVenezuelan food.  A bite into this dish brings together the sweetness of ripe plantains, the savory and slight sourness of the meat, the crunchy and moist texture of the AREPA and the delectable firmness of the black beans. All in one bite,  it is the history of our ever-changing cultural heritage.