Thanks to everyone who came out to Williams-Sonoma to catch up with Sinue and Louis for their first cooking demo for Pica Pica.  I hope you had a great time and come visit us soon.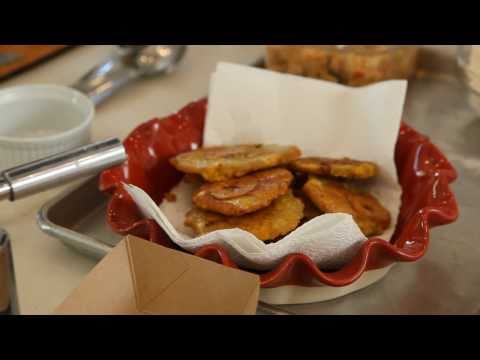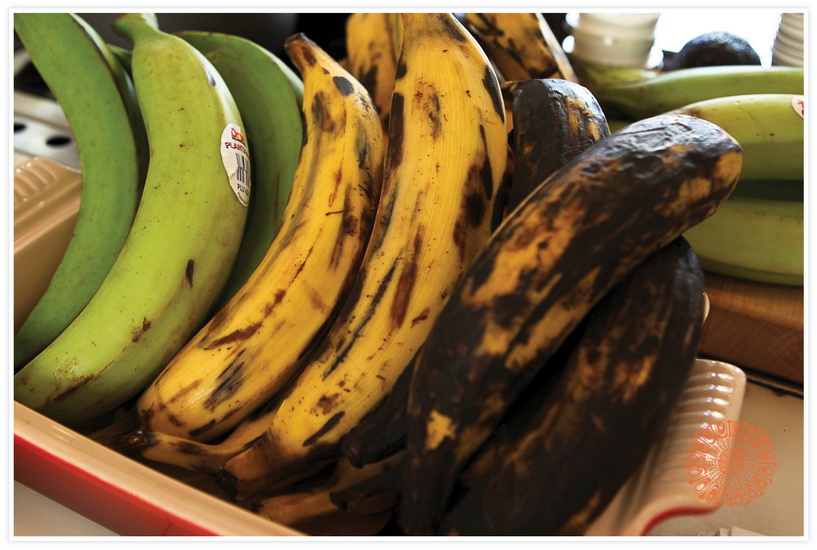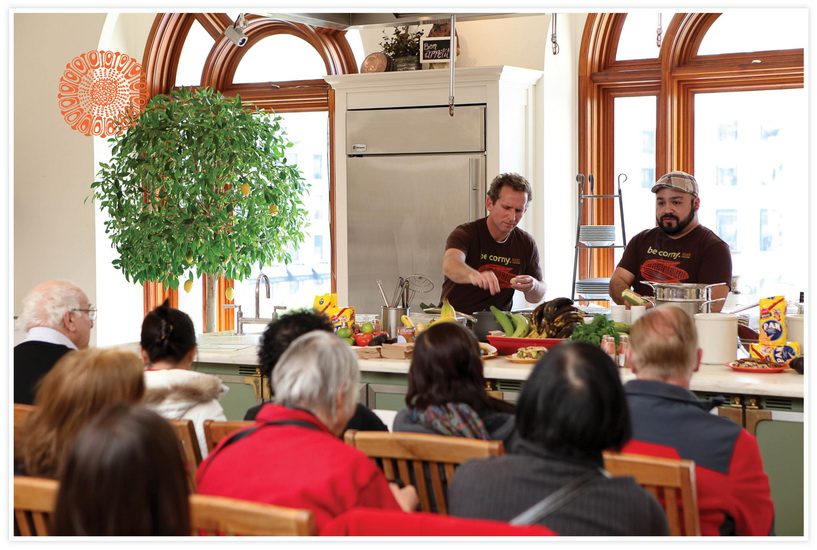 Luis Sosa (left) and Sinuhe Acevedo (right) demonstrating to the audience how to buy and handle plantains and cook delicious, traditional and easy recipes using this versatile tropical fruit as a core ingredient.

Plantains can be cooked in many different ways, depending on its level of ripeness: green plantains are perfect for tostones (fried) and patacones (tostones with any topping); yellow plantains, mildly ripe, are perfect for soups or an exquisite plantain bonbon, mixed with tilapia and  deep-fried; ripe plantains (the blacker the skin the sweeter the fruit) are great for fried sweet plantains (delicious with a white, hard and salty cheese).


Ripe plantains need to be handled carefully as they are soft.  At this point, the starch of the green plantains is transformed into sugar. 

Making tostones: slice the green plantain into 2 inch pieces, fry  until golden brown, remove from oil and smash.  Then fry again until golden brown; serve immediately, sprinkled with a little garlic and salt. 

A Venezuelan specialty: plantain bonbons mixed with tilapia and rolled with white corn meal.  Slightly fried, as both the plantain and the fish have been cooked previously.  Delicious alone or with a spicy dipping sauce, such as our own creation Pica'Pun.


Smash the fried slices of green plantain.  You can use a cutting board, a plate or as you see, a knife and a ramekin.  Any flat surface works.  Just make sure you smash them well as they need to be flat. A delicacy!  Using mildly ripe plantains, make little plantain baskets using a mold.  Fry and fill with anything.  A most delicious and inviting passed appetizer.  

Melting sugar cane to make 'mela'o de papelon'- a molasses-like syrup used to sweeten desserts or to give savory dishes a  layer of complexity.

We used this new avocado slicer and pitter tool that Williams-Sonoma lent us.  It works really well!  The avocado does come out in beautiful, clean slices.


Plantain baskets filled with Pepeada (chicken salad with creamy avocado, cilantro and lime).


Plantain soup!?  Yes, we served one of Pica Pica's  signature soups at the event,  a red bean and plantain soup, sweet and mildly spicy.  Hearty and perfect for the winter chill and  San Francisco weather in general!

Our tasting platter:  red bean and plantain soup; plantain baskets filled with Pepeada; empanadas filled with tofu and plantains; toston and plantain bonbon.  Hungry for more?  Stop by Pica Pica and you will be satisfied!






The chefs drawn by artist, Tim Coppola,  from the audience.  Thanks Tim!  Very cool!



The wealth of products from South America is now available at Williams-Sonoma.  One simple staple, such as corn, has been used by so many different cultures in many different and fascinating ways!  And many of these core staples are naturally gluten free: corn, plantains, yuca and potatoes — all key ingredients at Pica Pica Maize Kitchen.
Williams-Sonoma Union Square routinely offers great cooking demos by some of the region's best chefs.  Follow their facebook page to keep up with their schedule of guests.
Williams-Sonoma Union Square – FACEBOOK
. .
I'd like to offer some additional cooking demos this year.  Where would you like us to visit?
.
.
See more on cooking  plantains  here.

..