On January 15th and 16th we hosted at Pica Pica in San Francisco and Napa Pastry Chef Clarisa Penzini and Maitre Fromager Waldemar Albrecht-Luna from New York City for a trio tasting event of Venezuelan desserts, European cheeses and South American wines. The idea was to provide a little insight into how Venezuela's culinary culture (in particular the baking of sweets and desserts) has been marked by European influences.  Three desserts, Negra en Camisa, Juan Sabroso and Guava tarte, and three cheeses, MitiCabra from Spain, Gran Bu from Portugal and Pecorino Romano Sini Fulvi from Italy, were paired with three wines from Mendoza, Argentina:  Ikella Malbec 2008, Melipal Malbec Rose 2008 and Cino Sentidos Torrontes 2008 (presented by TasteVino from Napa).   The event was a great success, more on that later! But for now take a look at the making of the desserts and I hope you find the time and curiosity to download the recipes and give them a try!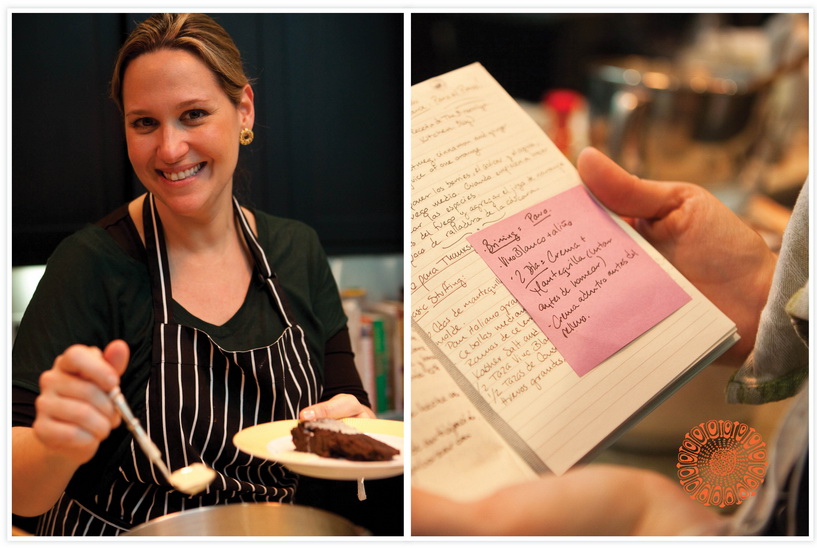 Clarisa was born and raised in Caracas, Venezuela.  She graduated from the French Culinary Institute in NYC in  2001 and upon moving back to Venezuela, opened "Canela" bakery. She published her first recipe book titled "Pasteleria Sencillamente Moderna" (Simply Modern Bakery) in April 2010.  Her pastries are unbelievable.  They are modern and delicate, but very well balanced with tradition and respect to the essence of the dish.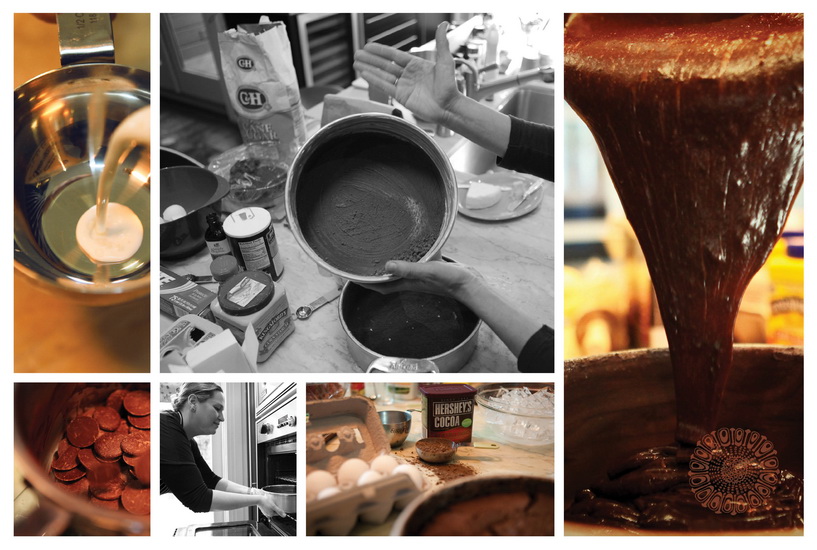 Making the cake "Negra en Camisa"- a very traditional cake in Venezuela, particularly in Caracas.  It is probably the one recipe that best presents the incredible flavors of Venezuela's renown cacao.  For this cake Clarisa used 65% El Rey chocolate, and used cornstarch and cocoa powder instead of flower to keep it gluten free.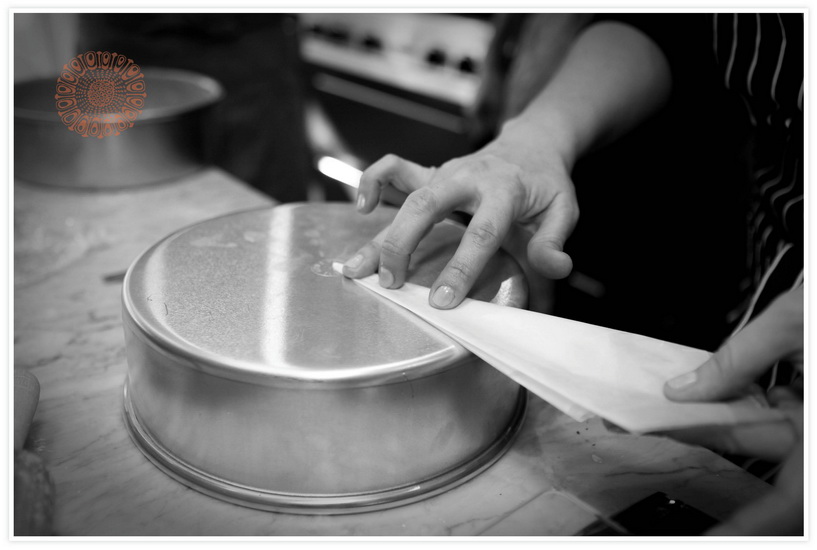 Lining the mold with parchment paper to avoid getting the top of the cake stuck to it.  This was the first time I saw this, but apparently it is as old a trick as buttering the mold…  To do it: fold the parchment paper in four, make a triangle and fold it over again, measure the length of the mold from the center to the edge and cut at the point.  It should open up as a perfect circle, the size of the mold). Let me know if you need help figuring this one out! 

Unmolding this very dense cake can be very tricky! 

The parchment paper really helps keep the top moist and together. 

Dense and dark… This cake can feed a lot of people because it is so dense you only need a small piece to satisfy your guests.

The cake is 'dressed' with creme anglaise- hence the name "Negra en Camisa"


 "Juan Sabroso" is a dessert from colonial times.  It is a white sweet potato and coconut milk custard, with a hint of ginger and cinnamon.  This dessert would be very popular as it is truly delicious (but sweet!) if it were not because it take about 2-3 hours on the stove with constant stirring to reach its perfect consistency!

It is very sweet, just a few spoonfuls is enough. 

Guava tarts: Clarisa used guava paste, which is sweet and slightly sour, as a topping of these crumbly and light flourless butter custards.  Absolutely divine- they crumble in your mouth and the viscosity and sweetness of the paste makes for an amazing experience of texture and flavors in just one bite.


Waldemar Albrecht-Luna, the Maitre Fromager who presented the cheese at our trio tasting event, and I, generously buttering the molds for the Negra en Camisa cake.  These molds are then sprinkled with cocoa powder to create a truffle like effect on the cake. 
The Negra en Camisa was one of Yiyita's (my grandmother) favorite cakes.  It was really a beautiful experience to bake this cake with my Dad (Yiyita's son) and Clarisa (my first cousin and Yiyita's granddaughter).  All three of us grew up watching her make this cake, learning her secrets and enjoying every bite of each cake she made.  We truly enjoyed making this together in San Francisco, so far away from Venezuela, but feeling once again close by cooking (together!) our own traditional recipes.  I hope you enjoy making them too! Let me know if you need any help! 

Below find a link to download the recipes for the desserts that we presented in the trio tasting last week.  These desserts, each in their own way, represent the direct influence of European immigrants in our culinary culture. In particular there are the Spanish recipes reinvented with the use of tropical fruits and other unique ingredients specific to the region.  The recipes below are modern (i.e. lighter) interpretations of these traditional desserts, and because we presented them at Pica Pica, they are also 100% gluten free.  These desserts represent the use of ingredients that were new to Europeans: cacao, sweet potatoes and a signature tropical fruit, guava. 
Negra en Camisa: this is a traditionally recipe from Caracas. This dark and very dense chocolate cake is probably the only recipe that we have from colonial times that focuses entirely on the use of Venezuela's supreme cacao.    When you take a bite of this cake all you can really taste is the richness of the chocolate, that is why we recommend that you use very high quality, dark cocoa (60% or higher).  If you can, use chocolate El Rey (www.chocolateselrey.com ).  It can be found at Whole Foods in most cities in the U.S. 
Juan Sabroso: as I mentioned above, this puree like dessert takes hours to make to achieve the desired consistency, so it is not very popular in venezuelan households anymore.  But it is a great example of the use that we give to root vegetables and vegetables in general to make desserts, such as sweet potatoes (Juan Sabroso), plantains (Torta Bejerana), corn (Torta de Jojoto) or yuca (Bunuelos con Papelon).  This dessert uses sweet potatoes combined with coconut mil and ginger, a particularly exotic combination of tropical ingredients. 
Tarta de Guayaba: this very light tarte is topped with Guava paste, and the acidity and sweetness of the guava combined with crumbliness of the tarte makes for an incredible texture and flavor experience.  The use of guava paste  focuses on the use of the European techniques of making jaleas (jelly) as a way to preserve fruit.  It is a traditional technique from the Andes as well as Colombia, where tropical fruits such as mango, passion fruit and guava are turned into jalea and citrics (limes, oranges, grapefruits), or angel hair squash are turned into confiture or candied fruit.