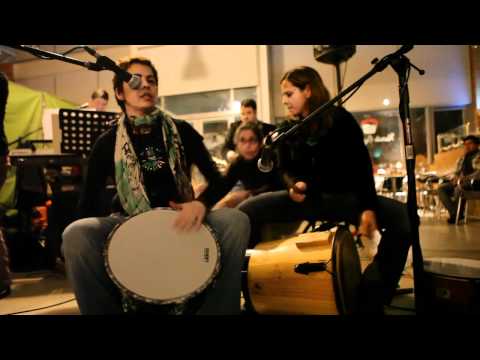 In keeping with Venezuelan tradition during the holidays, Pica Pica hosted the 2nd Annual Parranda at the Oxbow Public Market in December 2010. We invited again the Venezuelan Music Project venezuelanmusicproject.com to play the traditional Gaitas y Aguinaldos that are so characteristic of the month of December all over Venezuela.  The word parranda is similar to spree in English.  The parranderos or merrymakers take to the streets in towns and neighborhoods in cities and play cuatros, furrucos, tambores and maracas, going from house to house and bringing people out on the streets to celebrate.  This tradition also exists in neighboring Trinidad and it is known as parang.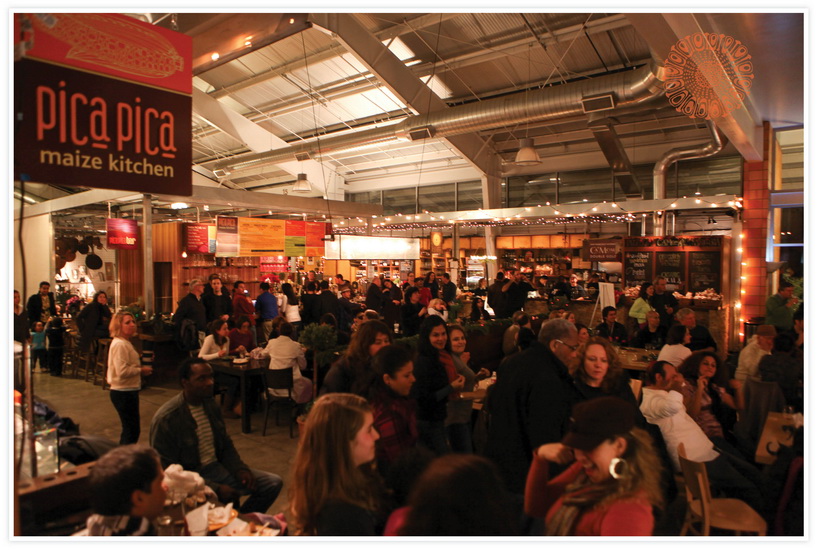 A quick guide to our video: first couple of mnutes VPM playing; minute 2:50 train line; 3:45 Woman del Calla'o song (purely Afro Caribbean influence); 4:00 CONGA line!; 4:30 the drums begin 'Zapatea Pajarillo'; 5:06 serious drum playing and dancing by Lilian Tintori and Rennea Couttenye; 6:50 'Fuego al Canon'!; 7:20 ' Feliz Ano'!; 8:16 Pica pica's jingle by Fernando Lezama).  The drum action is truly captivating.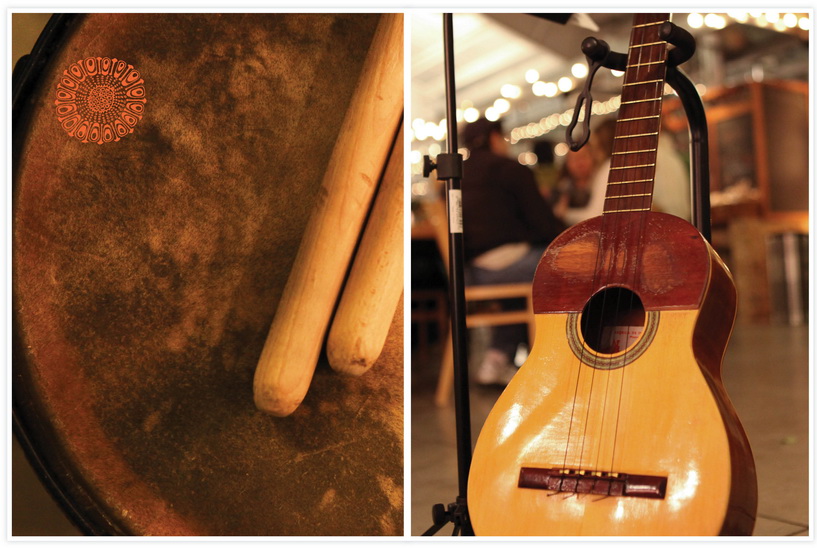 La tambora y el cuatro are key instruments in the parranda.

The Venezuelan Music Project is based out of Berkeley, a 16 musician band that plays in many different locations throughout the Bay Area year round.

Jackeline Rago (middle) is the founder of the band and she is accompanied by Lali and Omar, key members of the group and Parranda crew. Jackie demonstrated an amazing solo with the cuatro as well as very deep and captivating vocals.

Aurelio Delgado, Pica Pica Bar's manager. He is alway chipper and happy, but the night of the Parranda he seemed particularly upbeat!  But then again, who wasn't?!


All musicians play multiple instruments and sing.  That night they had 9 musicians- it felt like the Oxbow was filled with a huge band!  The acoustics were amazing!


CA'Momi's pastries were a great addition to the party, and very fitting with our tradition as we have a very strong influence of Italian pastries in Venezuela.  They just opened at the Oxbow Public Market in October of last year, serving oven baked pizzas, fresh pastries and their own house wines camomiwines.com.


Emmanuel tending the bar- at Pica Pica Bar we have 10 beers on draft, which rotate regularly, featuring mostly local beers or great craft beers from the West Coast.
The Oxbow Public Market oxbowpublicmarket.com is completely leased and filled with amazing tenants.  All restaurants (Pica Pica Maize Kitchen, CA'Momi, C Casa, Hog Island, the Wine and Cheese Merchant, Kara's cupcakes and Three Twin Ice Creams are open until 9 p.m. every day!  It is a perfect place to dine anytime,with a huge variety of offerings. 


La tambora (played with hands) is a key, key instrument in the parranda, which livened the party and made everyone jump into the conga line and move! Check out the interaction between the tambor and tambora on the video on minute 5:00 and onwards.  

This night was all about traditions- music and food.  We served the hallacas (traditional holiday dish served only in December- corn flour dough filled with a three meat stew and wrapped in a plantain leaf).


CONGA! Check out minute 4:00 of the video- pretty much everyone went through!

Marie Ferris, her sister that came from France and Adriana/

This guy was amazing, very upbeat, leading the train and the CONGA!

Happy making pizza!


Thank you everyone for coming!  It is such a great thing that we can recreate a little of our Venezuelan traditions so far away from Venezuela!


A traditional family event, with tons of kids and babies, eating and dancing along!


Leading the train, minute 3 on the video.

Help me god!!!



Bailando tambores!  Check out the great dancing and the crazy foot action and the captivating drums- minute 5:00 of the video.


Thank you to our great cooks, Jonathan y Juan!

Family and friends! Lilian and Manuela, Patsy and Jose.  

Leopoldo y Adriana and Luis.