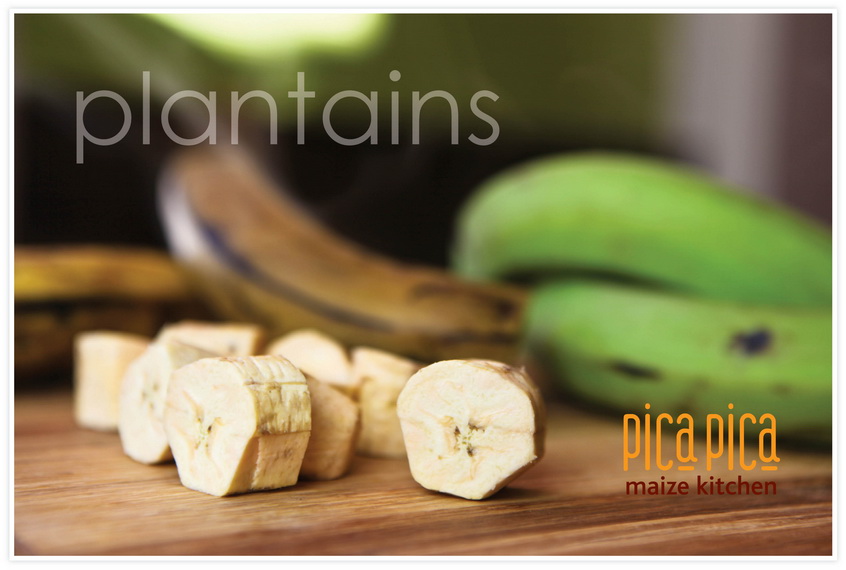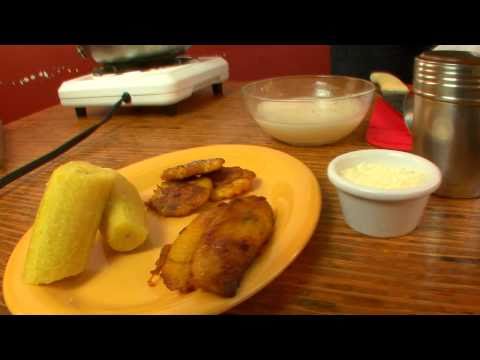 I had a lot of fun working on this episode.  We went out in the Mission looking for plantains.  The point of this episode (our first one, BTW!), is to show people how to shop for plantains and cook them.  Plantains abound in the Mission, not surprisingly.  It is such an important ingredient in Latin American cuisine, particularly Caribbean cuisine and the northern countries in South America.  But it is also an important Asian ingredient (the plantain and banana are originally from Asia).


There are green plantains (perfect for tostones and patacones), ripe plantains (or in Spanish, pinton), which are good for thinks like soups, baked plantain or torta de platano (plantain cake).  To the far right is the ripe, ripe plantain (maduro) which is delicious sliced and fried (tajada or fried sweet plantain).  Whicever your choice, these should not be eaten raw.  They need to be cooked (boiled, fried, baked).  Greener plantains have higher starch levels; riper plantains have higher sugar levels.  The blacker and almost done skin, the sweeter it is on the inside.

If you look closely, the banana (cambur in Venezuela) looks very different from the plantain. However, there is no botanical difference between the banana and the plantain (same family, MUSACEAE), but they are two very different ingredients.  Above is a picture of a few 'manos de cambur', the spanish version for a bunch of bananas (hand with yellow fingers).  Bananas and plantains are an important staple food in tropical countries.  The same plant can produce fruit for up to 10 years and on the same plot you can harvest about 4000 lbs. of banana/plantain vs. 100 lbs. of white potatoes.

Frying green plantains to make tostones. Open the green plantain, slice in 1.5-2 inch wide slices and fry. Then take a plate or wooden cutting board, place it over the fried plantain and smash it.  It should look like the picture below.  Then take the plantains and fry them again!  Condiment them with salt and/or garlic powder.  Serve immediately.  (you can do the first frying before serving, set them aside and then do the second frying before serving).


Plantains are a wonderful ingredient that is used in hundreds of different ways.  Below you will see tostones (top), to the left a semi ripe plantain (pinton), which has been boiled, and to the right, tajadas (ripe, sweet plantains, fried and sprinkled with white salty cheese).
if you have any interesting plantain recipes, please send them to me, I would love to try them.  We will have some more eccentric recipes coming up this year, which I hope will tickle your curiosity! Keep me posted on any plantain adventure you encounter.